Zbigniew Brzezinski, national security adviser to President Jimmy Carter, is the author most recently of "Second Chance: Three Presidents and the Crisis of American Superpower" (Basic Books).
"Realpolitik and Terrorism," The Wisdom Fund
Leon T. Hadar, "The "Green Peril": Creating the Islamic Fundamentalist Threat," Cato Institute, August 27, 1992
Standard Schaeffer, "''Al Qaeda Itself Does Not Exist'," CounterPunch, June 21, 2003
VIDEO: "There's no Al-Qaeda organization" (at 12:10 min)--"The Power Of Nightmares 03: The Shadows In The Cave," bbc.com, 2004
David E. Sanger, "Administration's Tone Signals a Longer, Broader Iraq Conflict," New York Times, October 17, 2005
The Great Conspiracy: The 9/11 News Special You Never Saw (2005)
Kurt Vonnegut, "Custodians of chaos," Information Clearing House, June 17, 2006
Patrick J. Buchanan, "Needed: A New Policy on Islam," World Net Daily, June 23, 2006
Enver Masud, "'Islamo-fascism' is an Oxymoron," The Wisdom Fund, August 31, 2006
Paul R. Dunn, "Islamic Fascism: The Propaganda of Our Times," The Wisdom Fund, September 6, 2006
Clare Dyer, "'There is no war on terror'," Guardian, January 24, 2007
"RAND REPORT SAYS COLD WAR OFFERS LESSONS ON ENGAGING WITH THE MUSLIM WORLD," RAND, March 26, 2007
The House Armed Services Committee is banishing the global war on terror from the 2008 defense budget.--Rick Maze, "No more GWOT, House committee decrees," Military Times, April 4, 2007
"'War on terror' phrase unhelpful, UK tells US," Guardian, April 16, 2007
Joshua Holland, "Orwell watch: beleaguered military declares 'Long War' over," AlterNet, April 20, 2007
[Sir Ivor Roberts as he left his job as Rome ambassador is curtly dismissive of strategic concepts such as, "the war on terror".--Donald Macintyre, "Former envoy makes devastating attack on Blair's 'bullshit bingo' management culture of diplomacy," Independent, April 27, 2007]
[In contrast to Tony Blair, the new British leader has offered no emotive sound bites, no promises of tough new laws and no talk of a "war on terror" since the failed attacks in London and Glasgow. . . . Brown has spoken of "al-Qaida" attackers but not of "Islamic" or "Muslim" terrorists.--Jill Lawless, "Britons cheer Brown for attacks response," Associated Press, July 3, 2007]
[THE "global war on terror" is what America calls its response to the September 11th attacks. Never mind the cliche, or the fact that "terrorism" is a tactic and "terror" a state of mind--"Language and terrorism: Don't mention the GWOT," Economist, July 5, 2007]
Steve Chapman, "Myths of the War on Terrorism," reason.com, July 12, 2007
[Islamophobia should be as unacceptable as any other form of prejudice. When 255,000 members of the so-called "Christian community" signed a petition to prevent the building of a large mosque in Abbey Mills, east London, they sent a grim message to the Muslim world: western freedom of worship did not, apparently, apply to Islam. There were similar protests by some in the Jewish community, who, as Seth Freedman pointed out in his Commentisfree piece, should be the first to protest against discrimination.--Karen Armstrong, "An inability to tolerate Islam contradicts western values," Guardian, July 21, 2007]
Brian Doherty, "Post-9/11 Prosecutions End With a Whimper," Reason Online, September 11, 2007
Steve Chapman, "Inflating the Threat of Radical Islam," Reason Online, September 17, 2007
[For one thing, there isn't actually any such thing as Islamofascism - it's not an ideology; it's a figment of the neocon imagination. The term came into vogue only because it was a way for Iraq hawks to gloss over the awkward transition from pursuing Osama bin Laden, who attacked America, to Saddam Hussein, who didn't.--Paul Krugman, "Inflating the Threat of Radical Islam," New York Times, October 29, 2007]
[Let Islam be Islam. The United States possesses neither the capacity nor the wisdom required to liberate the world's 1.4 billion Muslims, who just might entertain their own ideas about what genuine freedom entails.--Andrew J. Bacevich, "Picking up after failed war on terror," Los Angeles Times, November 6, 2007]
[Religious intolerance marks one candidate debate after another - a sweeping denigration of Islam. And it is going to backfire.--James Carroll, "Islamofascism's ill political wind," Boston Globe, January 21, 2008]
[The Bush administration has never shied from playing the fear card to distract the American public from scandal or goad them into supporting a deeply flawed foreign policy. Here a history of the administration's most-dubious terror alerts - including three consecutive Memorial Day scare-a-thons - all of which proved far less terrifying than the screamer headlines they inspired.--Tim Dickinson, "Truth or Terrorism? The Real Story Behind Five Years of High Alerts," rollingstone.com, January 22, 2008]
[For those who see through the game, it is obvious that the personalization trick covers up huge foreign policy fiascoes hatched by Washington and London.--Sreeram Chaulia, "The ever-changing faces of terror," Asia Times, February 8, 2008]
[The new director of national intelligence told Congress on Thursday that global economic turmoil and the instability it could ignite had outpaced terrorism as the most urgent threat facing the United States.--Mark Mazzetti, "Global Economy Top Threat to U.S., Spy Chief Says," New York Times, February 13, 2009]
[The UK and the US have "actively undermined" international law in the way they fight terrorism, . . .
The report remarks upon the extent to which undemocratic regimes with poor human rights records have referred to counter-terror practices of countries like the US to justify their own abusive policies.--"Anti-terror tactics 'weaken law'," BBC News, February 16, 2009]
[A panel of experts set up by the International Commission of Jurists has concluded that counterterrorism measures adopted after 9/11 "threaten the very core of the international human rights framework." The panel's report, called "Assessing Damage, Urging Action," was released last week following a three-year study of how tactics used in the so-called "war on terror" have eroded rights and liberties the world over and created a climate of "lingering cynicism."--"Fmr. Irish President Mary Robinson Heads Panel Faulting 'War on Terror' for Eroding Human Rights," democracynow.org, February 25, 2009]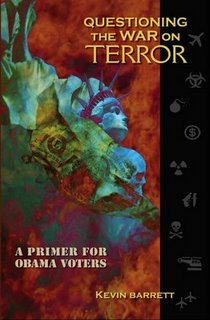 Kevin Barrett, "Questioning the War on Terror: A Primer for Obama Voters," Khadir Press (June 8, 2009)

Christopher Bollyn, "Richard Holbrooke and the Zionist War on Terror," bollyn.com, July 7, 2009

VIDEO: Chimamanda Adichie, "The danger of a single story," ted.com, October 7, 2009


"Shocking Details Of Slain Imam's Autopsy: He Was Shot 21 Times and Found Handcuffed," Fox 2, January 29, 2010

"UN rights body passes Islamophobia resolution," middle-east-online.com, March 25, 2010

[The chart includes the defendant's name, district, charging date, charges brought, classification category, conviction date and conviction charges.--"National Security Division Statistics on Unsealed International Terrorism and Terrorism-Related Convictions 9/11/01 - 3/18/10," U.S. Department of Justice, March 26, 2010]

Omar Sacirbey, "Skeptics challenge life stories offered by high-profile Muslim converts to Christianity," washingtonpost.com, June 26, 2010

VIDEO: Jon Stewart, "Wish You Weren't Here," thedailyshow.com, July 7, 2010

VIDEO: "Is Islam A Global Threat or Just Propaganda by The Establishment?," Alex Jones Show, August 18, 2010

[ . . . just now Christian armies are busily annexing and wrecking Afghanistan and Iraq, having recently bombed Somalia? That they use robotic aircraft to murder Yemenis, that they hunt down Moslems in the Philippines (where after 1898 Americans engaged in atrocities that would win the admiration of the Japanese), encourage Israel to ruin Lebanon and to run a concentration camp for Moslems in Gaza, enthusiastically murder Pakistanis from the sky, and threaten Syria and Iran?

. . . I append here a list of all Christian countries conquered by militant Moslems since 1529:

Next, a partial list of Moslem countries conquered by Christians: Morocco, Algeria, Tunisia, Libya, Egypt, Sudan, Lebanon, Syria, Palestine, Jordan, Iraq (the first time), Iraq (again), Iran, Pakistan, East Pakistan, Indonesia, Saudi Arabia, Kuwait, Yemen, Oman, Abu Dhabi, Dubai--Fred Reed, "A Requiem for Reason," fredoneverything.net, September 8, 2010]

[The bottom line answer is that the "war on terror" is about creating real terrorists. The US government desperately needs real terrorists in order to justify its expansion of its wars against Muslim countries and to keep the American people sufficiently fearful that they continue to accept the police state that provides "security from terrorists," but not from the government that has discarded civil liberties.--Paul Craig Roberts, "The War On Terror," antiwar.com, October 16, 2010]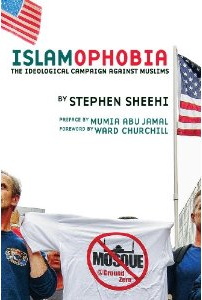 Stephen Sheehi, "Islamophobia: The Ideological Campaign Against Muslims," Clarity Press (November 15, 2010)
[But who put up the money to send out all those millions of DVDs? . . . Clarion, which has strong links to the right-wing Israeli group Aish HaTorah and is listed in government records as a foreign nonprofit, would never say.--Justin Elliott, "Mystery of who funded right-wing 'radical Islam' campaign deepens," salon.com, November 16, 2010
Leon Hadar, "Fear of a Muslim Planet: What's behind all the Sharia hysteria?," amconmag.com, November 16, 2010
Stephen Lendman, "Britain's War on Islam," uruknet.info, January 11, 2011
Daniel Halper, "'The War on Terror Is Over'," weeklystandard.com, April 23, 2012
[In the context of massive propaganda campaigns, the subtle use of stereotypes, and the fact that both the Western and the Indian media share certain basic biases, many people end up believing in a range of myths about the adherents of the world's second largest religion.--Nivedita Menon, "'Some Myths About Muslims'," pakistantoday.com, June 17, 2014]
Patrick Cockburn, "Why Washington's War on Terror Failed: The Underrated Saudi Connection," tomdispatch.com, August 21, 2014
[Such attempts to address extremism fail because they evade rather than address the central causes of the ongoing expansion of terrorism and political violence around the world, especially in the Arab world.--Rami G. Khouri, "'Beware the hoax of countering violent extremism," September 29, 2015]