[Paul R. Dunn, a columnist for The Pilot newspaper of Southern Pines, NC, is the author of "Touching Raw Nerves: A Liberal Yankee Columnist Takes on Conservative Dixie." He has provided OP-ED articles for The New York Times.]
VIDEO: Jane Elliott's lesson in bigotry is as necessary today as it was in 1968--"A Class Divided," PBS Frontline
Enver Masud, "'Islamo-fascism' is an Oxymoron," The Wisdom Fund, August 31, 2006
["Fascist ideology doesn't have anything to do with the way global terrorist networks think or operate, and it doesn't have anything to do with the overwhelming majority of Muslims around the world who practice the peaceful teachings of Islam," Feingold said.--Frederic J. Frommer, "Democratic Sen. Russ Feingold Calls on President Bush to Stop Using Phrase 'Islamic Fascists'," Associated Press, September 12, 2006]
[His September 19 speech was almost exclusively confined to the Middle East, an overwhelmingly Muslim region. The absence of even a reference to the North Korean pillar of his so-called "axis of evil" was revealing enough that his WWIII (3) "on terror" has shrunk to focus exclusively on the Muslim Middle East. . . .
Five years after U.S. President George W. Bush launched his global war on terrorism, this war has boiled down to a war on Islam: One cannot target all those Muslims, their countries and their Islamic syllabus without targeting their religion. . . .
All the anti-Islamist terminology cannot blur the fact that the issue is oil. There's no question that controlling the oil and the profits from oil is a U.S. top priority in the Middle East, particularly as Washington is not only bracing for a future competition with China and India for that resource, but also is already in fierce race with Europe and Japan . . .
Mr. President, they hate you because your administration and its predecessors have been for decades depriving them of their liberty, freedoms, resources and elected governments, in a historic trend that extends from removing an elected leader in Iran in the 1950s because of his nationalizing the oil and replacing him by the Shah, a brutal dictator, to suffocating the Palestinian people to squeeze out the elected Hamas-led government from power in 2006.--Nicola Nasser, "Bush and Islam: Words versus Deeds," Asian Tribune, September 29, 2006]
VIDEO: Aaron Russo, "America: Freedom to Fascism," freedomtofascism.com, October 20, 2006
"Flirting With Fascism on CNN Headline News: Host Glenn Beck threatens Muslims with concentration camps," Fair.org, December 4, 2006
[This effort signals the final and perhaps most deadly stage in the long campaign by the radical Christian right to dismantle America's open society and build a theocratic state. . . .
These kind of paramilitary groups bring to mind Nazi Party brownshirts, functioning as an extrajudicial enforcement mechanism that can and does operate outside the law--Chris Hedges, "America's Holy Warriors," truthdig.com, December 31, 2006]
Editorial: "The Imperial Presidency 2.0," New York Times, January 7, 2007
[History tells us that one of the most unstable political combinations is a country - like the United States today - that tries to be a domestic democracy and a foreign imperialist.--Chalmers Johnson, "Why Nemesis is at the US's door," Asia Times, February 1, 2007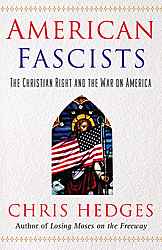 Chris Hedges, "American Fascists: The Christian Right and the War On America," democracynow.org, February 19, 2007
Kenneth Ballen, "The myth of Muslim support for terror," Christian Science Monitor, February 23, 2007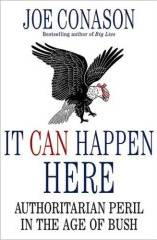 Joe Conason, "It Can Happen Here: Authoritarian Peril in the Age of Bush," democracynow.org, March 14, 2007
[The power of the Executive to cast a man into prison without formulating any charge known to the law, and particularly to deny him the judgment of his peers, is in the highest degree odious and is the foundation of all totalitarian government whether Nazi or Communist.
Therefore, those libertarians who continue to support this foreign policy of empire, militarism, and interventionism are faced with an inescapable moral and philosophical dilemma, perhaps the biggest of their lives: whether to continue advancing libertarianism or to continue supporting a pro-empire, interventionist foreign policy, knowing that such a policy means an unfree society. After all, everyone would acknowledge the irrationality of declaring, "I am fighting for a free society and supporting a government policy that destroys freedom." . . .
Throughout the many years of the Cold War, . . . one glaring fact stands out: At no time did conservatives ever claim that Islamo-fascism was a threat that required a massive military machine.--Jacob G. Hornberger, "The Islamo-Fascist Rationale for Abandoning Liberty," Future of Freedom Foundation, March 16, 2007]
[Accounts of a February 28 "literary luncheon" at the White House suggest that US President George W Bush's reading tastes - until now a remarkably good predictor of his policy views - are moving ever rightward, even apocalyptic, . . .
The luncheon, . . . held in honor of visiting British historian Andrew Roberts, whose latest work, A History of the English-Speaking Peoples Since 1900, . . . repeatedly advised the president, according to Irwin Stelzer, one of the neo-conservative attendees, to ignore rising anti-US sentiment abroad and opposition at home in pursuing his "war on terrorism" - or what the historian has called "the Manichaean world-historical struggle" against fascism, of which "totalitarian Islamic terrorist fascism" is only the latest. . . .
Bush had also recommended that his staff and friends read another, even more apocalyptic, analysis of the current "war on terror", America Alone: The End of the World as We Know It by Toronto-born neo-conservative columnist Mark Steyn.
Steyn's book, which, unlike Roberts', actually made the New York Times best-seller list, sees Europe's demographic trends and its multicultural, "post-nationalist" secularism - of which his native Canada is also guilty - as leading inevitably to the "Eupocalypse", the "recolonization of Europe by Islam", the emergence of "Eurabia", and the onset of a "new Dark Ages" in which the United States will find it difficult to survive as the "lonely candle of liberty".
Steyn . . . sees Islam itself - and not just "Islamist radicals" or "jihadis", such as al-Qaeda - as a unique threat that cannot be reconciled with "free societies".--Jim Lobe, "Hurry to 'The End', for the end is nigh," Asia Times, March 20, 2007]
[We are just a terrorist "incident," either real or imagined, away from a declaration of martial law and all its attendant consequences. Buckley grimly notes the polls are "savagely decisive" on the war question, and he asks: "Beyond affirming executive supremacy in matters of war, what is George Bush going to do?" The answer may be contained in Title 10, Chapter 15, Section 333.
Senators Patrick Leahy (D-Vt.) and Kit Bond (R-Mo.) are sponsoring legislation that would repeal the changes,--Justin Raimondo, "Blueprint for Dictatorship," Antiwar.com, April 20, 2007]
[The idea that Europe is being "taken over" by Muslims is the unifying theme of this cruise. With one or two exceptions, the passengers discuss "the Muslims" as a homogenous, sharia-seeking block - already with near-total control of Europe.--Johann Hari, "The Iraq war has been an amazing success, global warming is just a myth - and as for Guantanamo Bay, it's practically a holiday camp... The annual cruise organised by the 'National Review', mouthpiece of right-wing America, is a parallel universe populated by straight-talking, gun-toting, God-fearing Republicans," Independent, July 13, 2007]
[Kudos to British political scientist John Sidel for his brief and biting essay "The Islamic Threat in Southeast Asia: A Reassessment" [1] that seeks to redress the appalling imbalance. In fewer than 60 pages, Sidel, a professor at the London School of Economics, demolishes many of the shaky premises that have shored up the so-called "second front" in the US-led "war against terror" and helped create a dangerous divide between Muslims and non-Muslims in the region.--Michael Vatikiotis, "De-demonizing Southeast Asian Islam," Asia Times, August 22, 2007]
Shlomo Shamir, "Reform Jewish leader tells U.S. Muslims that Islam is being demonized," Haaretz, September 1, 2007
[I teach every year Japanese fascism in the 1930s and 40s. I discuss different definitions of fascism, pointing out how some seem to fit the Japanese case, while others don't, causing some scholars to even reject application of the term. But there is precious little in any mainstream scholarly definition of fascism that applies to the Islamic world in general or even specific countries.--Gary Leupp, "Horowitz's Latest Hate Campaign Heads for Campus," antiwar.com, October 10, 2007]
Editorial: "Danger lurks in use of term 'Islamofascism'," Boston Globe, November 8, 2007
[The pairing of "Islam" and "fascism" has no parallel in characterizations of extremisms tied to other religions, although the defining movements of fascism were linked to Catholicism - indirectly under Benito Mussolini in Italy, explicitly under Francisco Franco in Spain. Protestant and Catholic terrorists in Northern Ireland, both deserving the label "fascist," never had their religions prefixed to that word. Nor have Hindu extremists in India, nor Buddhist extremists in Sri Lanka. --James Carroll, "Islamofascism's ill political wind," Boston Globe, January 21, 2008]
Michael Winship, " Andrew Bacevich, America and the World," truthout.org, August 15, 2008
[Our "counter-terrorism" campaign basically consists of three steps repeated endlessly:
(1) Interfere in or otherwise act aggressively in the Muslim world.
(2) Provoke increased anti-American sentiment and fuel terrorism as a result of Step 1.
(3) Point to the increased anti-American sentiment and terrorism as a reason we need to escalate our interference and aggression in the Muslim world. Return to Step 1.
The coordinated campaign to hype the alleged "growing domestic Muslim threat" at exactly the time we are escalating our conventional war in Afghanistan and our covert Predator war in Pakistan is a perfect illustration of this process. Basically, what Shane's article reveals is the shocking truth that waging war and otherwise interfering in Muslim countries for more a full decade radicalizes Muslims and drives some of them to want to return the violence. Who would have guessed?--Glenn Greenwald, "The allegedly growing domestic Muslim threat," salon.com, December 14, 2008]
Frank Julian Gelli, "Open Letter to Islamophobe Dutch MP Geert Wilders," bloggingtheology, October 29, 2009
[While the European far right has proven increasingly willing to say the right things about Jews for tactical reasons, all indications are that hatred of Muslims frequently goes hand-in-hand with hatred of Jews.--Daniel Luban, "Islamophobia: Bad For The Jews," lobelog.com, January 21, 2010]
[A member of the Swiss People's Party (SVP) and a well-known politician, Daniel Streich was the first man who had launched a drive for imposition of ban on mosques minarets, and to lock the mosques in Switzerland.--"Swiss antagonist of minarets embraces Islam," nation.com.pk, January 30, 2010]
[Tens of millions of Americans, lumped into a diffuse and fractious movement known as the Christian right, have begun to dismantle the intellectual and scientific rigor of the Enlightenment. They are creating a theocratic state based on "biblical law," and shutting out all those they define as the enemy. . . .
The followers of deviant faiths, from Judaism to Islam, must be converted or repressed. The deviant media, the deviant public schools, the deviant entertainment industry, the deviant secular humanist government and judiciary and the deviant churches will be reformed or closed. There will be a relentless promotion of Christian "values," already under way--Chris Hedges, "The Christian Fascists Are Growing Stronger," truthdig.com, June 7, 2010]
[Even supporters of the referendum - which forbade state courts from considering sharia in their deliberations - admitted that the threat from Oklahoma's 30,000 Muslims couldn't be called "imminent."--Michael Gerson, "Baiting a faith in Oklahoma Network News," Washington Post, November 16, 2010]
Leon Hadar, "Fear of a Muslim Planet: What's behind all the Sharia hysteria?," amconmag.com, December 2010
Max Blumenthal, "The Great Islamophobic Crusade: Inside the bizarre cabal of secretive donors, demagogic bloggers, pseudo-scholars, European neo-fascists, violent Israeli settlers, and Republican presidential hopefuls behind the crusade," antiwar.com, December 20, 2010

Islamic Circle of North America, March 3, 2011
Andrea Elliott, "David Yerushalmi: The Man Behind the Anti-Shariah Movement," nytimes.com, July 30, 2011
[After a six-month-long investigative research project, the Center for American Progress Action Fund released a 138-page report, "Fear Inc: Exposing the Islamophobia Network in America", which for the first time reveals that more than $42m from seven foundations over the past decade have helped empower a relatively small, but interconnected group of individuals and organizations to spread anti-Muslim fear and hate in America.--Wajahat Ali, "Selling Islamophobia: The Fear-Monger Network," counterpunch.org, August 31, 2011]
Spencer Ackerman, "FBI Teaches Agents: 'Mainstream' Muslims Are 'Violent, Radical'," wired.com, September 14, 2011
Leonard C Goodman, "It's Not the Koran, It's Us," inthesetimes.com, December 30, 2014
[Researcher, Arun Kundnani, has shown how the FBI has one counterterrorism spy for every 94 Muslims in the U.S., which approaches Stasi's ratio of one spy for every 66 citizens.--Garikai Chengu, "The Rise of the American-Muslim Totalitarian State," counterpunch.org, December 11, 2015]