[Chalmers Johnson's latest book is The Sorrows of Empire: Militarism, Secrecy, and the End of the Republic (Metropolitan). His previous book, Blowback: The Costs and Consequences of American Empire , has just been updated with a new introduction.]
General Smedley Darlington Butler, "'War is just a racket'," 1933
"U.S. Military Bases Worldwide," militarybases.com
Jon Basil Utley, "A Beacon, Not An Empire," The Wisdom Fund, June 14, 2001
Zoltan Grossman, "A CENTURY OF U.S. MILITARY INTERVENTIONS," zmag.org, September 20, 2001
POWERPOINT: Zoltan Grossman, "New US Military Bases: Side Effects or Causes of War," counterpunch.org, February 2, 2002
Standard Schaeffer, "'Al Qaeda Itself Does Not Exist'," CounterPunch, June 21, 2003
M. Shahid Alam, "Bernard Lewis and the New Orientalism ," The Wisdom Fund, June 29, 2003
Edward Said, "Orientalists' Altruistic Empire," The Guardian, August 2, 2003
[Late Republican Senator Jesse Helms used to call Israel "America's aircraft carrier in the Middle East," when explaining why the US viewed Israel as such a strategic ally--"Top Secret American Military Installations in Israel," Arutz7 News, January 28, 2004]

Gore Vidal, "Imperial America: Reflections on the United States of Amnesia," Thunder's Mouth Press / Nation Books (2004)
Jim Miklaszewski, "More than 320,000 U.S. troops stationed in 120 countries," MSNBC, March 9, 2004
Christine Spolar, "14 `enduring bases' set in Iraq," Chicago Tribune, March 23, 2004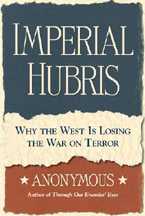 Anonymous, "Imperial Hubris," Brassey's Inc (July 15, 2004)
Jon Basil Utley, "36 Ways the US Is Losing the War on Terror," Antiwar.com, August 3, 2004
John Pilger, "THE ROGUE STATE," Mirror, August 21, 2004
"The Warlords of America," The Wisdom Fund, August 23, 2004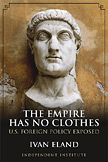 Book Review: Ivan Eland, "The Empire Has No Clothes," Independent Institute (September 28, 2004)
[Three long-term trends are threatening to bankrupt America: the burgeoning costs of waging the war on terrorism, the U.S. economy's increasing reliance on foreign capital, and rapid aging throughout the developed world.--Peter G. Peterson, "Riding for a Fall," Foreign Affairs, September/October 2004]
David R. Francis, "US bases in Iraq: sticky politics, hard math," Christian Science Monitor, September 30, 2004
Stephen Graham, "McCain Calls for Permanent American Military Bases in Afghanistan," Associated Press, February 22, 2005
Kirkpatrick Sale, "Collapse of the American Empire," CounterPunch, February 22, 2005
Peter Spiegel, " Afghanistan likely to have permanent US military," Financial Times, April 5, 2005
[. . . the Defense Department has gone out of its way to avoid using the term "military base." . . . to avoid giving the impression that the United States is seeking a permanent, colonial-like presence in the countries it views as possible hosts for such installations.--Michael T. Klare, "Imperial Reach," The Nation, April 25, 2005]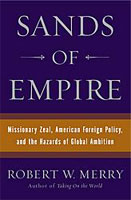 Robert W. Merry, "Sands of Empire : Missionary Zeal, American Foreign Policy, and the Hazards of Global Ambition," Simon & Schuster (May 31, 2005)
Peter Spiegel, "Seabees buzz in to build up bases," Washington Times, February 3, 2006
[Japan's southern island has long accommodated - unwillingly - three quarters of the US military's 45,000 Japanese complement spread over 90 bases and installations.--Chirstopher Reed, "Washington Gives the Green Light: Japan's Neo-Militarists," counterpunch.org, February 23, 2006]
Barry Lando, "Total Withdrawal? What About the Superbases," alternet.org, March 12, 2007
Katrina Vanden Heuvel, "The Enormous Cost of War," Nation, August 17, 2007
[With U.S. markets crashing and wealth vanishing, what are we doing with 750 bases and troops in over 100 countries?--Patrick J. Buchanan, "Liquidating the Empire," antiwar.com, October 14, 2008]
[The Pentagon's most recent inventory of bases lists a total of 716 overseas sites. . . . one conspicuously absent site is al-Udeid air base, a billion-dollar facility in nearby Qatar, where the US Air Force secretly oversees its ongoing unmanned drone wars.
. . . close to 700 US, allied, and Afghan military bases dot Afghanistan. Until now, however, they have existed as black sites known to few Americans outside the Pentagon.--Nick Turse, "Black sites in the empire of bases," atimes.com, February 11, 2010]
[By one Pentagon count there are 865 foreign facilities. But that doesn't count bases in Afghanistan and Iraq, which probably pushes the total past 1000.--Doug Bandow, "Just What Is America Doing all Over the World?," campaignforliberty.com, July 15, 2010]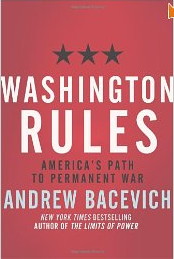 Andrew Bacevich, "Washington Rules: America's Path to Permanent War," Metropolitan Books (August 3, 2010)
David Vine, "Picking up a $170 billion tab," atimes.com, December 13, 2012
David Vine, "From Carter to the Islamic State, 35 Years of Building Bases and Sowing Disaster," tomdispatch.com, November 13, 2014
[The Defense budget alone exceeds $526 billion. We have 4,855 military bases, including 4,169 in the United States, 110 in U.S. territories, and 576 abroad. Defense civilian employees number 718,000, supplemented by countless contractors who operate in a monopolistic or oligopolistic environment. The national debt is $17 trillion and growing.--Bruce Fein, "Faustian bargain of global leadership," washingtontimes.com, November 13, 2014]
Nick Turse, "U.S. Special Ops Forces Deployed in 135 Nations," tomdispatch.com, September 24, 2015
[Today, the United States empire has over 800 U.S. military installations around the world. . . . more bases in foreign lands than any other people, nation or empire in history.
Other countries have a combined total of about 30 foreign bases. Great Britain has seven bases and France five bases in their former colonies. Russia has eight military bases in the former Soviet republics and one in Syria.--Ann Wright, "Challenging US Overseas Military Bases," consortiumnews.com, December 19, 2015]
Chris Hedges, "The American Empire: Murder Inc," truthdig.com, January 3, 2016
[Special Operations forces, now at almost 70,000 and growing. . . . our secret "warriors" now outnumber the military contingents of major nations.--David Vine and Tom Engelhardt, "Enduring Bases, Enduring War in the Middle East," tomdispatch.com, January 15, 2016]
[According to retired Colonel Lawrence Wilkerson, . . . "There is a cowardly empire killing them from the skies and the only way for them to fight back is asymmetrical. The things they do seem like heinous acts of terrorism to us, but in fact that is the only option we've left them with."--Vegas Tenold, "The Untold Casualties of the Drone War," rollingstone.com, February 18, 2016]
Judah Ari Gross, "In first, US establishes permanent military base in Israel," timesofisrael.com, September 18, 2017