["This is a memo that describes how we're going to take out seven countries in five years, starting with Iraq, and then Syria, Lebanon, Libya, Somalia, Sudan and, finishing off, Iran."--Gen. Wesley Clark, "'Seven Countries in Five Years'," democracynow.org, March 2, 2007]
Katrina Vanden Heuvel, "The Enormous Cost of War," Nation, August 17, 2007
Daniel Howden and Leonard Doyle, "Making a killing: how private armies became a $120bn global industry," Independent, September 21, 2007
John Pilger, "The New World War -- The Silence Is A Lie," johnpilger.com, September 24, 2008
Thomas A. Schweich, "The Pentagon is muscling in everywhere," Washington Post, December 21, 2008
[Massive military spending in this country, climbing to nearly $1 trillion a year and consuming half of all discretionary spending, has a profound social cost. Bridges and levees collapse. Schools decay. Domestic manufacturing declines. Trillions in debts threaten the viability of the currency and the economy. The poor, the mentally ill, the sick and the unemployed are abandoned. Human suffering, including our own, is the price for victory.
Citizens in a state of permanent war are bombarded with the insidious militarized language of power, fear and strength that mask an increasingly brittle reality.--Chris Hedges, "The Disease of Permanent War," truthdig.com, May 18, 2009]
BOOK REVIEW: Enver Masud, "Preaching the Gospel of 'biblical capitalism,' military might, and American empire," The Wisdom Fund, May 25, 2009]
Howard Zinn, "America's Holy Wars," democracynow.org, November 11, 2009
[Traditional military threats against America have largely disappeared. There's no more Soviet Union and Warsaw Pact, Maoist China is distant history and Washington is allied with virtually every industrialized state. As Colin Powell famously put it while Chairman of the Joint Chiefs: "I'm running out of enemies. . . . I'm down to Kim Il-Sung and Castro."--Doug Bandow, "Bankrupt Empire," nationalinterest.org, April 19, 2010]
Lawrence Korb and Christopher Preble, "Cut Defense Spending," nationalinterest.org, June 16, 2010
David DeGraw, "The U.S. War Addiction: Funding Enemies to Maintain Trillion Dollar Racket," alternet.org, June 19, 2010
Doug Bandow, "Just What Is America Doing all Over the World?," campaignforliberty.com, July 15, 2010
[As a former army officer, a Catholic, and a social conservative from the Midwest, he has appealed to both conservatives and progressives unhappy with the militarized pursuit of power abroad and the encouragement of unlimited individual self-gratification at home.
He has argued that the all-volunteer army is the nexus between these twinned developments in U.S. society and global policy.--Andrew J. Bacevich, "Review of Washington Rules: America's Path to Permanent War by Andrew J. Bacevich," antiwar.com, November 9, 2010]
[In contrast to the 1950s, military extravagance is depleting rather than adding to the nation's wealth. In the Eisenhower era, the United States, a creditor nation, produced at home the essentials defining the American way of life - everything from oil to cars to televisions. Today, we import far more than we export, with ever-increasing debt as one result. Furthermore, in the 1950s, we were mostly at peace; today we are mostly at war - and, as a result, more of the resources provided to the military go abroad and stay there.--Andrew J. Bacevich, "The Tyranny of Defense Inc," theatlantic.com, January/February 2011]
[On Jan. 17, 1961, President Dwight Eisenhower gave the nation a dire warning about what he described as a threat to democratic government. He called it the military-industrial complex, a formidable union of defense contractors and the armed forces.--NPR Staff, "Ike's Warning Of Military Expansion, 50 Years Later," npr.org, January 17, 2011]
Gareth Porter, "50 Years After Ike's Speech: From Military-Industrial Complex to Permanent War State," counterpunch.org, January 18, 2011
Andrew Bacevich, "A Cow Most Sacred: Why Military Spending is Untouchable," counterpunch.org, January 27, 2011
Richard F. Grimmett, "Instances of Use of United States Armed Forces Abroad, 1798-2010," Congressional Research Service, March 10, 2011
Trevor Aaronson, "How the FBI's Network of Informants Actually Created Most of the Terrorist Plots 'Foiled' in the US Since 9/11," Mother Jones, October 9, 2011
[All told, the federal government has appropriated about $635 billion, accounting for inflation, for homeland security-related activities and equipment since the 9/11 attacks.--Stephan Salisbury, "The cost of America's police state," salon.com, March 5, 2012]
VIDEO: Oliver Stone and Peter Kuznick, "The Untold History of the United States," Gallery Books; First Edition (October 30, 2012)
Yuri Skidanov, "USA Wages War More Often than Just Annually," lewrockwell.com, January 20, 2014
VIDEO: William Lind, "Unwinnable Wars," c-span.org, June 17, 2014
Bruce Fein, "Why the Constitution disfavors war," washingtontimes.com, September 15, 2014
James Risen, "Pay Any Price: Greed, Power, and Endless War," amazon.com, October 14, 2014
["Of course it's about oil; we can't really deny that," said Gen. John Abizaid, former head of U.S. Central Command and Military Operations in Iraq, in 2007. Then-Sen. and later Defense Secretary Chuck Hagel echoed in 2007: "People say we're not fighting for oil. Of course we are." Former Federal Reserve Chairman Alan Greenspan confirmed in his memoir: "I am saddened that it is politically inconvenient to acknowledge what everyone knows: the Iraq war is largely about oil."--Bruce Fein, "Inventing threats, protecting defense budgets," washingtontimes.com, December 2, 2014]
John Basil Utley, "12 Reasons America Doesn't Win Its Wars," theamericanconservative.com, June 12, 2015
"The 239 Year Timeline of America's Involvement in Military Conflict," wakingtimes.com, December 17, 2015
Chris Hedges, "The American Empire: Murder Inc," truthdig.com, January 3, 2016
[Kennedy intended to pull the US out of Vietnam once he was reelected. He intended to break up the CIA "into one thousand pieces" and curtail the military-security complex that was exploiting the US budget.
And that is why he was murdered.--Paul Craig Roberts, "When They Killed JFK They Killed America," paulcraigroberts.org, May 7, 2016]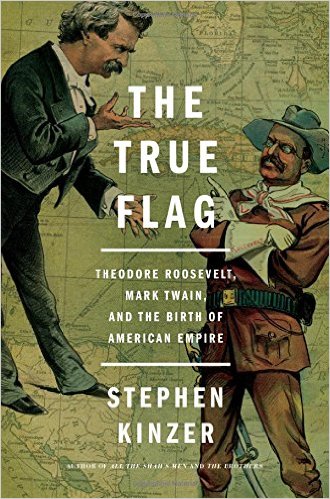 [The United States, McKinley argued, could not possibly tyrannize faraway lands, as European powers did, because the tyrannical impulse is foreign to America's character and tradition. He said that since the United States set its foreign policies with "unselfish purpose," its influence in the world could only be benevolent. The essential goodness of the American people, he argued, is the supreme and sole necessary justification of whatever the United States chooses to do in the world. . . .
In the space of just nine months, the United States had brought Cuba under American military rule and annexed Puerto Rico, Guam, Hawaii, and the Philippines. . . .
Senator Huey Long of Louisiana, a Democrat who was assassinated in 1935, while preparing his campaign for the presidency . . . had promised that if elected he would name the country's most contrarian military hero, General Smedley Butler, as secretary of war.--Stephen Kinzer, "The True Flag: Theodore Roosevelt, Mark Twain, and the Birth of American Empire," Henry Holt and Co. (January 24, 2017) p.132, p.134, p.235]
"The Birth of American Empire," On Contact, March 18, 2017
Andrew Bacevich, "Are There Questions About US Foreign Policy We're Forbidden to Ask," billmoyers.com, May 8, 2017
[The Bilderberg Group . . . has just been the stage for a difficult debate between the partisans and the adversaries of imperialism in the Middle East.--Thierry Meyssan, "Confrontation at Bilderberg 2017," voltairenet.org, June 6, 2017]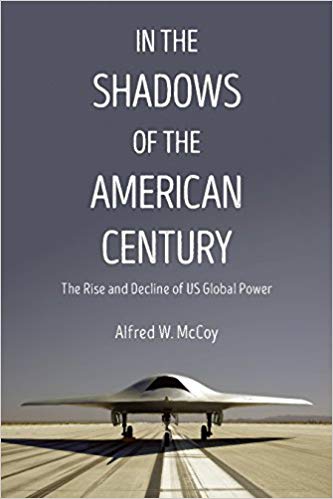 [Adding a distinct, even novel dimension to US global power was a clandestine fourth tier that entailed global surveillance by the NSA, and covert operations on five continents by the CIA, manipulating elections, promoting coups, and, when needed, mobilizing surrogate armies. Indeed, more than any other attribute, it is this clandestine dimension that distinguishes US global hegemony from earlier empires.--Alfred W. McCoy, "In the Shadows of the American Century: The Rise and Decline of US Global Power," Haymarket Books (September 12, 2017) p. 52-56]
Jeff Faux, "A Short History of American Empire," dissentmagazine.org, Fall 2017
DOCUMENTARY BY OLIVER STONE: "A Good American," agoodamerican.org, Fall 2017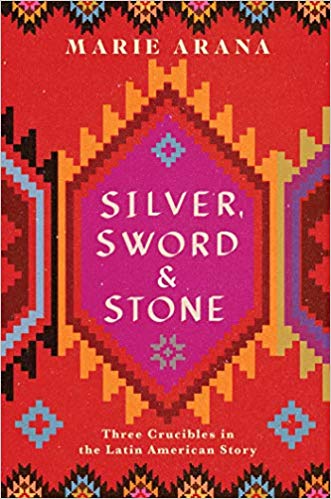 Marie Arana, "Silver, Sword, and Stone: Three Crucibles in the Latin American Story," Simon & Schuster (August 27, 2019)
[US Marine Corps Major-General Smedley Darlington Butler is now lost to history. Yet more than a century ago, this strange contradiction of a man would become a national war hero, celebrated in pulp adventure novels, and then, 30 years later, as one of America's most prominent anti-war and anti-imperialist dissidents.--Danny Sjursen, "Where have you gone, Smedley Butler?," asiatimes.com, February 21, 2020]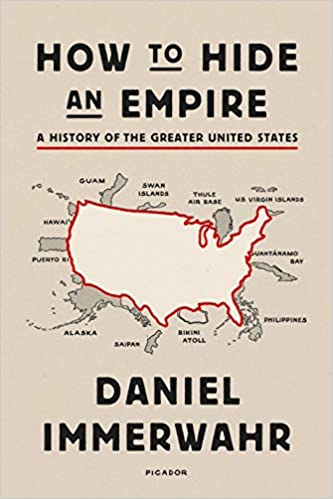 Daniel Immerwahr, "How to Hide an Empire: A History of the Greater United States," Picador; Reprint edition (March 3, 2020)
Fareed Zakaria, "The Pentagon is using China as an excuse for huge new budgets," fareedzakaria.com, March 18, 2021