WHO IS A 'TERRORIST'? There is no generally accepted definition of terrorism.
A UN High-level Panel on Threats, Challenges and Change defined terrorism as "any action intended to cause death or serious bodily harm to civilians or non-combatants with the purpose of intimidating a population or compelling a government or an international organisation to do, or abstain from, any act."
"Oklahoma City Bombing: Innocent Dead, Falsely Accused," The Wisdom Fund, April 20, 1995
"Suicide Bombing: The Facts, Logic, and Views," The Wisdom Fund, May 9, 2002
"White Terrorism Is Not A Concept The US Takes Seriously," The Wisdom Fund, January 8, 2004
"Justice in America," The Wisdom Fund, July 4, 2009
"American Patriots Question 9/11," The Wisdom Fund, September 11, 2011
Alex Henderson, "10 of the Worst Terror Attacks by Extreme Christians and Far-Right White Men, alternet.org, July 24, 2013
["After these killings in Nevada, and the murders at a Jewish community center in Kansas, and the murders at a Sikh temple in Wisconsin, and multiple murders by members of the 'sovereign citizens' movement in the last few years, it's worth remembering that since 9/11, right-wing terrorism has killed many more Americans than al Qaeda terrorism," Paul Waldman writes in the Washington Post.--Conor Friedersdorf, "If the Las Vegas Killers Were Muslims We'd Call Them Terrorists, theatlantic.com, June 10, 2014]
Sonali Kolhatkar, "The Rise of the New, Liberal Islamophobia, Truthdig.com, October 9, 2014
Scott Burchill, "Radical Islam and the West: the moral panic behind the threat," theconversation.com, June 16, 2015
Justin Raimondo, "Who Is a 'Terrorist'?," antiwar.com, June 22, 2015
[Such attempts to address extremism fail because they evade rather than address the central causes of the ongoing expansion of terrorism and political violence around the world, especially in the Arab world.--Rami G. Khouri, "Beware the hoax of countering violent extremism," aljazeera.com, September 29, 2015]
[Americans are more at risk from violence by armed white Christian fanatics than they ever were from Muslims.--Juan Cole, "Abortion Clinics, White Christian Terrorism and GOP Candidates, juancole.com, November 28, 2015]
"Why They Hate Us," The Wisdom Fund, December 19, 2015
[B.J. Soper took aim with his AR-15 semiautomatic rifle and fired a dozen shots at a human silhouette target. . . .
Deep in the heart of a vast U.S. military training ground, surrounded by spent shotgun shells and juniper trees blasted to shreds, the Central Oregon Constitutional Guard was conducting its weekly firearms training.--Kevin Sullivan, "Primed to fight the government," washingtonpost.com, May 22, 2016]
"United States of Hate: Muslims Under Attack," BBC, May 24, 2016
[2014 national survey of 175 law enforcement agencies ranked sovereign citizens, not Islamic terrorists, as the most pressing terrorist threat . . .
In fact, a 2016 report by the US Government Accountability Office noted that "of the 85 violent extremist incidents that resulted in death since September 12, 2001, far-rightwing violent extremist groups were responsible for 62 (73%) while radical Islamist violent extremists were responsible for 23 (27%)."--Oliver Conroy, "They hate the US government, and they're multiplying: the terrifying rise of 'sovereign citizens'," theguardian.com, May 15, 2017]
Mythili Sampathkumar, "Majority of terrorists who have attacked America are not Muslim, new study finds," independent.co.uk, June 23, 2017
[Since World War II, during a supposed golden age of peace, the United States military has killed some 20 million people, overthrown at least 36 governments, interfered in at least 82 foreign elections, attempted to assassinate over 50 foreign leaders, and dropped bombs on people in over 30 countries.--David Swanson, "List of U.S. Wars and Hostile Actions," davidswanson.org, September 16, 2017]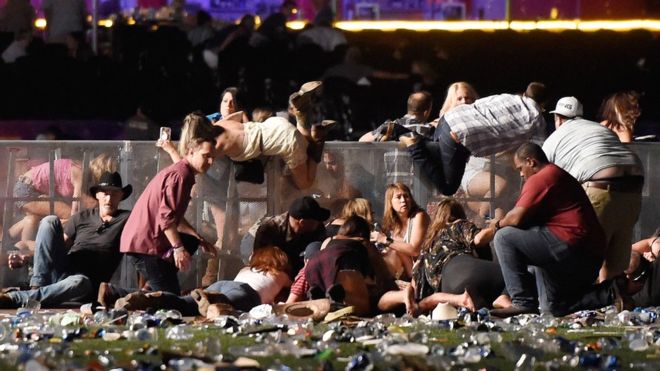 "Las Vegas shooting: Gunman Stephen Paddock kills 50 people," bbc.com, October 2, 2017
"'No Way To Prevent This,' Says Only Nation Where This Regularly Happens," theonion.com, October 2, 2017
[Devin Patrick Kelley, 26, opened fire on a small Texas church on Sunday morning, killing 26 people, wounding at least 10 others--Tim Stelloh, Caitlin Fichtel, Tracy Connor, "Who Is Devin Kelley, the Texas Church Shooter," nbcnews.com, November 6, 2017]
[Everytown for Gun Safety, released a revealing study, "Mass Shooting in the United States, 2009-2016," that argued that, in the U.S., most mass shootings are related to domestic or family violence. It reports that from 2009-2016, there were 156 "mass shootings," incidents in which four or more people were shot and killed. . . . "These incidents resulted in 1,187 victims shot: 848 people were shot and killed, and 339 people were shot and injured."--David Rosen, "Terrorism and White Men's Murderous Rage," counterpunch.org, November 7, 2017]
David Neiwert, "The time for talking about white terrorism is now," theguardian.com, November 26, 2017
"Florida Shooting: Nikolas Cruz Is Charged With 17 Counts of Murder," nytimes.com, February 15, 2018
"Tennessee minister was plotting the deadliest attack on US soil since 9/11," Guardian, July 20, 2018
Arnold R. Isaacs, "American Islamophobia's Fake Facts," theguardian.com, August 31, 2018
[Robert Bowers, walked into the building and yelled, "All Jews must die."--"11 Dead, Several Others Shot At Pittsburgh Synagogue," theguardian.com, October 27, 2018]
Mehdi Hasan, "List of Far-Right Attackers Trump Inspired," theintercept.com, October 27, 2018
[killing 12 people--Alex Dobuzinskis, "Ex-Marine apparently acted alone in California bar shooting: FBI," reuters.com, November 8, 2018]
Alan Boyd, "New Zealand massacre points to rightwing extremists," asiatimes.com, March 15, 2019
Trevor Aaronsom, "The Threat Within," theintercept.com, March 23, 2019
"Donald Trump: White Nationalist Terrorism Denier," The Intercept, May 6, 2019
VIDEO: "State of Hate: The Explosion of White Supremacy," CNN, June 30, 2019
Susan Miller, "El Paso, Dayton make 251 mass shootings in the US in 216 days, more shootings than days in the year," usatoday.com, August 3, 2019
"Ohio shooting: nine dead in second US mass killing in 24 hours: Dayton incident comes hours after at least 20 people died in a mass shooting in El Paso, Texas," theguardian.com, August 4, 2019
Fareed Zakaria, "State of Hate: The Explosion of White Supremacy," CNN.com, September 1, 2019