Gareth Porter is an investigative historian and journalist specializing in US national security policy. The paperback edition of his latest book, Perils of Dominance: Imbalance of Power and the Road to War in Vietnam, was published in 2006.
Joe Stephens and David B. Ottaway, "From U.S., the ABC's of Jihad," Washington Post, March 23, 2002
[The US ambassador to Afghanistan, Karl Eikenberry, announced recently that a US$511 million contract had been awarded to Caddell Construction to build the world's largest embassy in Kabul--Syed Saleem Shahzad, "Pakistan opens its door to US ops," atimes.com, November 23, 2010]
"Secret US and Afghanistan Talks Could See Troops Stay for Decades," The Wisdom Fund, June 13, 2011
Gideon Polya, "US Afghanistan Invasion 10th Anniversary: 5.6 Million War-related Deaths," countercurrents.org, October 10, 2011
"Highlights of US-Afghanistan strategic partnership deal signed by Obama and Karzai," washingtonpost.com, May 1, 2012
["The assertion that maintaining a long-term presence in the country is the best way to prevent future attacks on the U.S. belies the reality on the ground: that our mere presence is destabilizing."--Jennifer Bendery, "Dennis Kucinich: New U.S.-Afghan Agreement Means We're Not Leaving Afghanistan," huffingtonpost.com, May 2, 2012]
[By hiding behind the claim that the organization provides for 'common defense,' NATO allows us to wage wars of choice under the guise of international peacekeeping. . . .
NATO was originally founded to provide a strategic counterbalance to the Soviet Union. Its founding purpose no longer exists, but NATO continues to circumvent the authority of the United Nations and to provoke other nations. NATO is an anachronism. Instead of trying to bolster the organization, we should begin serious discussions to dismantle it.--Dennis Kucinich, "NATO Talks a Sham: War in Afghanistan Is Not Ending," huffingtonpost.com, May 21, 2012]
[Global market value of Afghan heroin in 2009 given by mainstream sources puts it at somewhere between $60 Billion and $65 Billion.--Sibel Edmonds, "Afghan Heroin Myths and Facts Recapped and Simplified for Mainstream Followers," boilingfrogspost.com, May 23, 2012]
[In early 2010, the US-led International Security Assistance Force (ISAF) claimed that it had nearly 400 Afghan bases. Early this year, that number had grown to 450. Today, a military spokesperson tells TomDispatch, the total tops out at around 550.--Nick Turse, "Afghanistan's base bonanza," atimes.com, September 6, 2012]
[Even with 4,200 bases set up to secure the country, along with close to 80,000 troops from the most technologically sophisticated and well-funded military on the planet (with assistance from 40,000 personnel from other powerful armies) and an allied indigenous force of around 350,000 soldiers and police, the Afghan War has dragged on for more than a decade. All that military might has been unable to decisively defeat a rag-tag, minority insurgency of limited popularity.--Nick Turse, "Afghanistan overdoses on military bases," atimes.com, September 12, 2012]
[. . . the only strategy Washington and London are firmly committed to is an exit strategy.--Michael Glackin, "No more pretending in Afghanistan," Daily Star, September 21, 2012]
Gareth Porter and Shah Noori, "Taliban outflanks US war strategy," atimes.com, September 22, 2012
John Glaser, "US Intends to Keep 10K Troops in Afghanistan Beyond 2014," antiwar.com, November 26, 2012
[A is for Allah, J is for Jihad . . . the Afghan Ministry of Education, which works closely with CAII, has decided to omit all recent history (read the past thirty years of war) from its curriculum.--Mark Graham, "USAID in Afghanistan: Plunderers and Prey," counterpunch.org, December 5, 2012]
Kevin Sieff, "Strong American role still exists at Afghan-controlled prison," washingtonpost.com, March 29, 2013
Spencer Ackerman, "After U.S. Troops Leave, Armed Drones Will Patrol Afghanistan's Skies," wired.com, April 23, 2013
Spencer Ackerman, "Exclusive: Congressman Preps Bill to End Terror War Authority," wired.com, May 23, 2013
Nicholas Watt, "International forces will provide advice to Afghan military until 2020," guardian.co.uk, June 29, 2013
"How Opium Greed Is Keeping US Troops in Afghanistan," RT, November 13, 2013
[If I summarize, you want to see an end to attacks on Afghan homes and a verifiable launch of the peace process? And once you have these guarantees--"Hamid Karzai -- United States behaves in Afghanistan like a colonial power," lemonde.fr, December 10, 2013]
[Just 17% of those questioned say they support the 12-year-long war, down from 52% in December 2008.--Jack A. Smith, "Why the US Wants To Stay In Afghanistan," antiwar.com, January 8, 2014]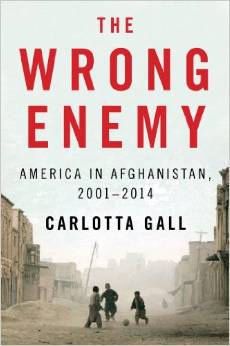 Carlotta Gall, "The Wrong Enemy: America in Afghanistan, 2001-2014," Houghton Mifflin Harcourt (April 8, 2014)
[That number will be cut in half at the end of 2015, and reduced at the end of 2016 to a small military presence at the U.S. Embassy.--Karen DeYoung, "Obama to leave 9,800 U.S. troops in Afghanistan," washingtonpost.com, May 27, 2014]
[As they have in Iraq, contractors will vastly outnumber the U.S. uniformed forces training Afghan troops as well as the special operations forces providing counterterrorism operations against what the president called "the remnants of al-Qaida."--Tim Shorrock, "Exclusive: New document details America's war machine -- and secret mass of contractors in Afghanistan," salon.com, May 28, 2014]
Monica Whitlock, "Helmand's Golden Age," bbc.co.uk, August 7, 2014
[Afghanistan has inaugurated its first new president in a decade, swearing in Ashraf Ghani to head a power-sharing government. Joining him on stage Monday was Abdul Rashid Dostum, Afghanistan's new vice president. Dostum is one of Afghanistan's most notorious warlords, once described by Ghani himself as a "known killer."-"As U.S.-Afghanistan Sign Troop Deal, CIA-Backed Warlord Behind Massacre of 2,000 POWs Sworn-In as VP," democracynow.org, September 30, 2014
[Under the BSA, as it is called here, American forces would keep some bases in the country. The agreement also prevents U.S. military personnel from being prosecuted under Afghan laws for any crimes they may commit; instead, the United States has jurisdiction over any criminal proceedings or disciplinary action involving its troops inside the country. U.S. contractors and their employees do not fall into this category and would be subject to Afghan laws.--Sudarsan Raghavan, "U.S., Afghanistan sign long-delayed security pact," washingtonpost.com, September 30, 2014]
Sonali Kolhatkar, "Entirely Predictable: The U.S. Is Leaving Afghanistan Worse Off Than Before," truthdig.com, November 6, 2014
Lynne O'Donnell, "Afghan leader's two-man government raises concerns," AP, December 20, 2014
[Under Resolute Support, officials said, a total of 12,000 NATO forces will remain through the end of 2015, including about 5,000 Americans. An additional 5,500 U.S. forces will operate in the second separate role.--Pamela Constable, "NATO flag lowered in Afghanistan as combat mission ends," washingtonpost.com, December 28, 2014]
[What is actually happening now is much less significant, a transition from the NATO-led war to a more US-dominated one, with the US planning significant troops to remain through 2024 and beyond, and already agreeing to extend combat missions beyond the "end" of the war.--Jason Ditz, "NATO Touts Afghan War 'End,' With Transition to New, US-Led War," antiwar.com, December 28, 2014]
[The warm reception contrasted sharply with the one that Rula Ghani, a Lebanese-born Christian, has received at home.--Pamela Constable, "Afghanistan's first lady: lauded abroad, lambasted at home," independent.co.uk, February 20, 2015]
[ . . . the strong indication that the US military presence in Afghanistan will be, after all, open-ended; and, second, that the Afghan peace process involving the reconciliation with the Taliban is, finally, taking off.--M K Bhadrakumar, "US resets the Afghan chessboard," rediff.com, February 23, 2015]
Shane Harris, "Obama's Lawyers: Let's Extend the 9/11 Wars Forever," thedailybeast.com, April 20, 2015
[Months after President Obama formally declared that the United States' long war against the Taliban was over in Afghanistan, the American military is regularly conducting airstrikes against low-level insurgent forces and sending Special Operations troops directly into harm's way under the guise of "training and advising."-Azam Ahmed and Joseph Goldstein, "Taliban Gains Pull U.S. Units Back Into Fight in Afghanistan," nytimes.com, April 29, 2015]
Sudarsan Raghavan, "Taliban open to peace talks, but only if all U.S. forces leave Afghanistan," washingtonpost.com, May 4, 2015
"NATO decides to maintain presence in Afghanistan," nato.int, May 13, 2015
"Report: US Mulls Leaving Thousands of Troops in Afghanistan After 2016," Fox News, September 25, 2015
Andrew J. Bacevich, "Yes, the U.S. can leave Afghanistan," latimes.com, October 18, 2015