"Trial of The Century? 9/11 'Mastermind' or Wedding Planner?," The Wisdom Fund, March 3, 2003
[A month after the Sept. 11 attacks, President Bush released a list of the world's most-wanted terrorists. There were 22 names on it. Khalid Shaikh Mohammed was No. 22.--Debra Pickett, "'Terror Boss' Moves Up Ladder As U.S. Sees Fit," Chicago Sun-Times, March 4, 2003 -- the world's most-wanted terrorists list and Sun-Times article have been either moved or removed]
"9/11 'Mastermind': Dim Prospect For A Fair Trial," The Wisdom Fund, December 1, 2009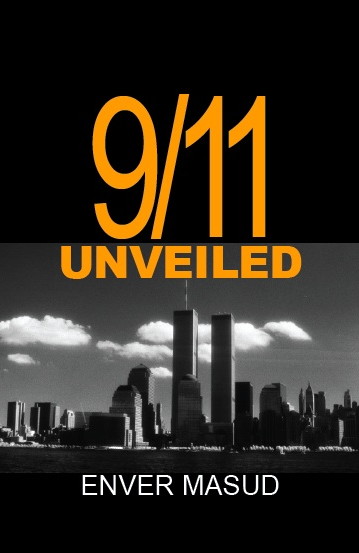 Glenn L. Carle, "The Interrogator: An Education," Nation Books (June 28, 2011) -- Glenn l. Carle was a member of the CIA's Clandestine Service for twenty-three years and retired in March 2007 as deputy national intelligence officer for transnational threats.
"Zelikow Appointed to Obama's Intelligence Advisory Board," virginia.edu, September 7, 2011 -- Zelikow, described as a myth maker, was the executive director of the 9/11 Commission.
VIDEO: "What's this 'nineleven' you conquered us for?," rt.com, September 9, 2011
[2000+ military, intelligence, industry professionals do not believe the official account of 9/11.--"Muslims Didn't Do It," The Wisdom Fund, September 11, 2011]
[Carle also played a role in revealing that supposed "al-Qaeda mastermind" Abu Zubeida turned out to be a mentally retarded individual who could barely mastermind the tying of his own shoes.
The retarded Abu Zubeida, under torture, apparently fingered Khalid Sheikh Mohammed (KSM) as a fellow (retarded?) "terrorist mastermind." Mohammed was then kidnapped and tortured relentlessly - presumably until he "broke" and began parroting the torturers' claim that he had something to do with 9/11.--"CIA whistleblower Glenn Carle on TJ Radio," truthjihadradio.blogspot.com, May 2, 2012]
[Self-proclaimed 9/11 "mastermind" Khalid Sheikh Mohammed and the four others - Waleed bin Attash, Ramzi Binalshibh, Ali Abd al-Aziz Ali and Mustafa Ahmad al-Hawsawi - are expected to be tried together. . . .
Khalid Sheikh Mohammed has alleged that he was repeatedly tortured during his detention in Cuba.
CIA documents confirm that he was subjected to simulated drowning, known as waterboarding, 183 times.--"Khalid Sheikh Mohammed and other '9/11 plotters' back in court," BBC News, May 5, 2012]
Enver Masud, "9/11: Evidence of Complicity and Cover-up at the Pentagon," The Wisdom Fund, August 15, 2012
Mark Hughes, "9/11 trial 'may not begin for another four years'," telegraph.co.uk, August 22, 2012
[The American Civil Liberties Union argues that it is "Orwellian," preposterous for the U.S. government to subject the men to the detention regime and then say they can't talk publicly in court about what happened to them.--Carol Rosenberg, "9/11 hearings to focus on secrecy, transparency," mcclatchydc.com, October 15, 2012]
[The truth, essentially, is that it is impossible for Khalid Sheikh Mohammed and the other four men - or any of America's other torture victims - to receive a fair trial, because the use of torture automatically precludes that possibility.--Andy Worthington, "The 9/11 Trial: Torturing Justice," mcclatchydc.com, October 22, 2012]
Peter Finn, "Testimony on CIA's treatment of 9/11 suspects will be kept secret, judge rules," mcclatchydc.com, December 12, 2012
[He revealed information about CIA officials involved in torturing innocent 9/11 patsy Khalid Sheik Mohammed--Kevin Barrett, "CIA officer John Kiriakou imprisoned to protect 9/11 cover-up," veteranstoday.com, January 6, 2013]
Peter Foster, "September 11 trial threatened by legal dispute," telegraph.co.uk, January 25, 2013
Daphne Eviatar, "Not Only Does 9/11 Trial Have a Censor, But No One Can Know Who It Is," huffingtonpost.com, January 29, 2013
"Is attorney David Nevin serious about defending his client, the alleged 9/11 mastermind Khalid Sheik Mohammed?," 911sig.blogspot.com, February 14, 2013
[The battered credibility of the Guantanamo trials has been further dented by revelations of hidden microphones, intelligence service interference with court proceedings and protests from lawyers who say the US military is preventing a proper defence of the alleged organisers of the 9/11 attacks.--Chris McGreal, "Guantanamo trials plunged into deeper discord as confidence in court wanes," guardian.co.uk, February 17, 2013]
Carol Rosenberg, "Guantanamo lawyer floats possible defense argument: 9/11 attack justified," mcclatchydc.com, August 21, 2013
Carol Rosenberg, "Guantanamo judge makes secret ruling on secret motion in secret hearing," stripes.com, September 10, 2013
[Considering the incredible growth in contracts that SAIC realized from the events of 9/11, any independent investigation into those events should carefully consider the role played by that company and its leadership. Andrews and his company were integral to the counterterrorism programs of the United States in the years prior to 9/11. The company's role included creating the national databases that tracked and identified terrorists, supplying airport screening equipment, predicting and investigating terrorist attacks against the WTC, helping to create the official account for what happened at the WTC after 9/11, and providing the information to capture KSM.--Kevin Ryan, "Profiting from 9/11: The Private Company that Played a Major Role in the 'War on Terror'," globalresearch.ca, June 4, 2014]
Laura Pitter, "13 Years On, Will 9/11 Ever Go to Trial?," foreignpolicy.com, August 27, 2014
[Last week, Maj. Jason Wright - one of the lawyers defending Mohammed - resigned from the Army. He has accused the U.S. government of "abhorrent leadership" on human rights and due process guarantees and says it is crafting a "show trial.""Guantanamo Defense Lawyer Resigns, Says U.S. Case Is 'Stacked'," npr.org, August 31, 2014]
[Less than two hours after the capture of Khalid Sheikh Mohammed, self-professed mastermind of the 9/11 attacks, in March 2003, an CIA interrogation chief sent an email to CIA headquarters requesting permission to "press [Sheikh Mohammed] for threat info right away." The subject line: "Let's roll with the new guy."--Erin Dooley, "CIA Torture Report: The Most Stunning Findings," abcnews.go.com, December 9, 2014]
[Perhaps that's what Khalid Sheikh Mohammed, after being waterboarded 183 times, told his CIA torturers.--Robert Fisk, "Once again language is distorted in order to hide US state wrongdoing," independent.co.uk, December 14, 2014]
[After a recent court ruling, almost no one who remains at Guantanamo can be constitutionally prosecuted by military tribunals.--The Editorial Board, "A Rebuke to Military Tribunals," nytimes.com, June 18, 2015]
Spencer Ackerman, "9/11 judge and prosecutors should step down over 'destroyed evidence', defense demands," theguardian.com, June 18, 2015
Enver Masud, "Trial of alleged 9/11 mastermind: letter to defense attorney David Nevin containing evidence sufficient to acquit his client," twf.org, February 13, 2016
Spencer Ackerman, "Judge 'manipulated' 9/11 attacks case, court document alleges," theguardian.com, May 31, 2016
Carol Rosenberg, "Sept. 11 trial stumbles on documents so secret the judge can't see them," mcclatchydc.com, August 23, 2017
Carol Rosenberg, "Judge tells alleged 9/11 plotter's lawyers to seek funding for more brain scans," mcclatchydc.com, May 1, 2018
Julian Borger, "''Why can't we get this over?': 9/11 hearings drag on at Guantánamo," theguardian.com, February 2, 2019