Syed Saleem Shahzad, "A New Battle Begins in Pakistan," Asia Times, October 20, 2009
Pratap Chatterjee, "Could Pakistan 2010 Go the Way of Cambodia 1969?," TomDispatch.com, February 7, 2010
"Gen Petraeus Turns Up The Heat On Pakistan, Afghanistan," Reuters, October 16, 2010
Enver Masud, "Turkmenistan, Afghanistan, Pakistan, India Agree to Support TAPI Pipeline," The Wisdom Fund, December 13, 2010
["TAPI is the finished product of the US invasion of Afghanistan. It consolidates NATO's political and military presence in the strategic high plateau that overlooks Russia, Iran, India, Pakistan and China. TAPI provides a perfect setting for the alliance's future projection of military power for "crisis management" in Central Asia.--M K Bhadrakumar, "NATO weaves South Asian web," atimes.com, December 23, 2010]
[We are depriving the citizens of other countries of their life, liberty, and property with no semblance of due process. This means that our actions are not only in violation of international law, the UN Charter, and the United States' Constitution but also violate basic human rights.--Jim Fetzer, "On the Ethical Conduct of Warfare: Predator Drones," Global Research, February 22, 2011]
Karen DeYoung, "CIA idles drone flights from base in Pakistan," washingtonpost.com, July 1, 2011
William Wan and Peter Finn, "Global race on to match U.S. drone capabilities," washingtonpost.com, July 4, 2011
[For the past three years, Noor Behram has hurried to the site of drone strikes in his native Waziristan. His purpose: to photograph and document the impact of missiles controlled by a joystick thousands of miles away, on US air force bases in Nevada and elsewhere. . . .
"For every 10 to 15 people killed, maybe they get one militant," he said. --Saeed Shah and Peter Beaumont, "US drone strikes in Pakistan claiming many civilian victims, says campaigner," Guardian, July 17, 2011]
[Ground the U.S. drone war in Pakistan. Rethink the idea of spending billions of dollars to pursue al-Qaida. Forget chasing terrorists in Yemen and Somalia, unless the local governments are willing to join in the hunt. . . .
He noted that the U.S. intelligence and homeland security communities are spending about $80 billion a year, outside of Afghanistan and Pakistan. Yet al-Qaida and its affiliates only have about 4,000 members worldwide. That's $20 million per terrorist per year, Blair pointed out. . . .
Blair mentioned that 17 Americans have been killed on U.S. soil by terrorists since 9/11 - 14 of them in the Ft. Hood massacre. Meanwhile, auto accidents, murders and rapes combine have killed an estimated 1.5 million people in the past decade.--Noah Shachtman, "Former Intel Chief: Call Off The Drone War (And Maybe the Whole War on Terror)," wired.com, July 28, 2011]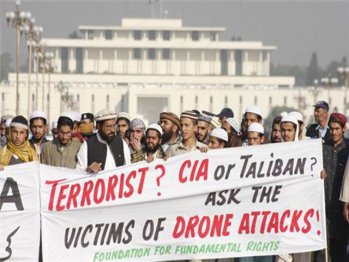 Jemima Khan, "Under fire from afar: Harrowing exhibition reveals damage done by drones in Pakistan," Independent, July 29, 2011
Muhammad Idrees Ahmad, "Fighting back against the CIA drone war," The Nation, July 31, 2011
[The reason Hayden pushed for a much bigger drone war, it now appears, is that it had already created a whole bureaucracy in the anticipation of such a war.--Gareth Porter, "CIA drone war driven by internal needs," washingtonpost.com, September 7, 2011]
Karen DeYoung, "U.S. sharpens warning to Pakistan," washingtonpost.com, September 21, 2011
[Like Al Qaeda, about which no one had ever heard prior to 9/11, the "Haqqani Network" has popped up in time of need to justify America's next war - Pakistan.--Paul Craig Roberts, "Pakistan and 'The Haqqani Network': The Latest Orchestrated Threat to America," infowars.com, September 26, 2011]
[The PTI leader criticised not only President Asif Ali Zardari and Nawaz Sharif but also blasted US policies in the biggest-ever show of political power in Lahore in the past 25 years.--Hamid Mir, "Imran Khan: new trouble man for US in Pakistan," thenews.com.pk, November 1, 2011]
Gen. Hamid Gul -- former head Pakistan's ISI, November 29, 2011
[Pakistan's Defence Committee of the Cabinet . . . took the following decisions: a) to close NATO's transit routes through Pakistani territory with immediate effect; b) to ask the US to vacate Shamsi airbase within 15 days; c) to "revisit and undertake a complete review" of all "programs, activities and cooperative arrangements" with US, NATO and the International Security Assistance Force (ISAF), including in "diplomatic, political and intelligence" areas; d) to announce shortly a whole range of further measures apropos Pakistan's future cooperation with US, NATO and ISAF.--M K Bhadrakumar, "US and Pakistan enter the danger zone," atimes.com, November 29, 2011]
[Pakistan regained possession of the Shamsi air base in Balochistan near the border with Iran after evicting the US military presence from there. The base itself had been leased to the United Arab Emirates (UAE) since 1992.--M K Bhadrakumar, "US outed, and far from drawn down," atimes.com, December 13, 2011]
Eric Schmitt, "U.S. Prepares for a Curtailed Relationship With Pakistan," nytimes.com, December 25, 2011
Tom Hussain, "Analysts: U.S., Pakistan collaborating again on drone strikes," mcclatchydc.com, January 16, 2012
"Obama confirms Pakistan drone strikes," BBC News, January 31, 2012
Chris Woods and Christina Lamb, "Obama Terror Drones: CIA Tactics in Pakistan Include Targeting Rescuers and Funerals," antiwar.com, February 5, 2012
M K Bhadrakumar, "Pakistan ditches Kabul, Tehran," rediff.com, February 8, 2012
[The Bureau For Investigative Journalism believes that between 2,383 and 3,109 people have been killed, of whom 464 to 815 were civilians--Andrew Buncombe and Issam Ahmed"Protests grow as civilian toll of Obama's drone war on terrorism is laid bare," Independent, March 3, 2012]
Medea Benjamin, "Obama Administration Silencing Pakistani Drone-Strike Lawyer," antiwar.com, April 10, 2012
[* Demands end to drone strikes, hot pursuit inside Pakistan
* Says Pakistan's sovereignty shall not be compromised
* Rejects transportation of arms and ammunition to Afghanistan through Pakistan
* Seeks unconditional US apology over Salala incident
* Supports gas pipeline projects with Iran and Turkmenistan--Tanveer Ahmed, "Parliament redefines relations with US," Daily Times, April 13, 2012]
Jon Boone, "Pakistan advised to seek official investigation into US drone strikes," Guardian, June 7, 2012
VIDEO: "Julian Assange interviews Imran Khan," rt.com, June 19, 2012
[Putin is an action-oriented statesman and the unhappy part is that six long years have passed since he first proposed at the SCO summit in Shanghai in June 2006 the setting up of an energy club within the regional grouping comprising the energy producing countries of Russia, Iran and the Central Asian countries and the three big energy consuming countries of China, India and Pakistan. . . .
It was at the very same Shanghai summit of the SCO that Putin came out openly for the first time to say that Russia's energy leviathan Gazprom was willing to take part in the construction of the Iran-Pakistan-India gas pipeline. --M K Bhadrakumar, "A Russia House on the Indian Ocean," Guardian, June 30, 2012]
[Khan's campaign strategy is simple: he has promised to uproot corruption within 90 days, end the country's involvement in America's war on terror and institute an Islamic welfare state.--Pankaj Mishra, "Imran Khan Must Be Doing Something Right," nytimes.com, August 16, 2012]
Gareth Porter, "Cover-Up of Civilian Drone Deaths Revealed by New Evidence," truth-out.org, August 17, 2012
Owen Bowcott, "Drone attacks in Pakistan are counterproductive, says report," guardian.co.uk, September 24, 2012
REPORT: "Living Under Drones," Stanford Law School, 2012
Chris Kirk, "Obama's 297 Drone Strikes: A map of every reported drone strike in Pakistan," slate.co.uk, February 14, 2013
Cora Currier, "How Does the U.S. Mark Unidentified Men in Pakistan and Yemen as Drone Targets," propublica.org, March 1, 2013
Sebastian Abbot, "UN says US drones violate Pakistan's sovereignty," chron.com, March 15, 2013
Simon Rogers, "Drone war: every attack in Pakistan visualised," guardian.co.uk, March 25, 2013
Jonathan S. Landay, "U.S. secret: CIA collaborated with Pakistan spy agency in drone war," mcclatchydc.com, April 9, 2013
Andrew Buncombe, "Pakistani court declares US drone strikes i n the country's tribal belt illegal," independent.co.uk, May 9, 2013
Shirin Sadeghi, "Election Day: The Battle in Pakistan & Washington to Stop Imran Khan," huffingtonpost.com, May 10, 2013
[Secret US documents reveal that senior Pakistani government officials have for years known of and endorsed CIA drone strikes--"Secret memos 'show Pakistan endorsed US drone strikes'," bbc.co.uk, October 24, 2013]