Dr. Amaresh Misra is an historian/journalist. His most recent book "War of Civilizations: India AD 1857" was released in March 2008 by the Vice President of India Shri Mohd. Hamid Ansari.
Enver Masud, "5,000 Killed, 50,000 Homeless in India 'Pogrom'," The Wisdom Fund, March 16, 2002
"Godhra bogie was burnt from inside: Report," Times of India, July 3, 2002
[India's external intelligence service, the Research and Analysis Wing (RAW) has launched a major internal investigation for possible moles following the apparent defection of a senior officer recruited by the US Central Intelligence Agency (CIA).
The Indian government fears that the defection of Rabinder Singh, who held the senior rank of joint secretary and who headed the agency's Southeast Asia department, is only the tip of the iceberg in a possible infiltration operation by the CIA and Mossad, Israel's foreign intelligence service.--"India's CIA spy scandal," janes.com, July 1, 2004]
Peter Walker, "American expats caught up in Indian bomb blast inquiry," Guardian, July 29, 2008
[Haywood is a suspect in connection with the Ahmedabad blasts after a threatening e-mail was sent on the day of the blasts from his Internet Protocol address--" U.S. national Ken Haywood leaves India," hindu.com, August 19, 2008]
Rama Lakshmi, "Hindus Detail Involvement In Deadly '02 Riots in India On Video, Assailants Tell of State Collusion," Washington Post, October 26, 2008
[ . . the arrests of Hindus in a terrorism case and the use of the new tag "Hindu terror" have sparked enormous controversy. The acrimonious political debate and the street demonstrations in support of the accused threaten to paralyze India's concerted response to terrorism. The controversy also points to the growing complexities of combating tit-for-tat terrorism in this predominantly Hindu but officially secular nation.
Since May, several Indian cities have been rocked by bombings in crowded public places that killed more than 200 people.--Rama Lakshmi, "In India, Controversy Over Hindus' Arrests: Terrorism Case Sets Off Politicking, Protests," Washington Post, November 24, 2008]
"CIA, MOSSAD HAND BEHIND SANGH PARIVAR'S EXTREMISTS," Rashtriya Sahara, November 26, 2008
"Mumbai rocked by deadly attacks," BBC News, November 27, 2008
Tariq Ali, "India's Leaders Need to Look Closer to Home," counterpunch.org, November 27, 2008
Paul Joseph Watson, "Mumbai Attacks Blamed On Al-Qaeda As Pretext For U.S. Military Response," prisonplanet.com, November 27, 2008
[Karkare had solved the serial bomb blasts in Thane, Vashi and Panvel and was also credited for the stunning revelations in the investigation of the September 29 blast in Malegaon.
. . . the Pune ATS on November 26 reportedly received phone calls threatening to blow up the residence of Karkare "within a couple of days".--"Hemant Karkare was known for fair investigation," ndtv.com, November 27, 2008]
[Alex Neill, head of the Royal United Services Institute's Asia security programme, believes the attacks were probably carried out by local jihadists linked to the radical Students Islamic Movement of India . . .
One possible mastermind and Simi member is Abdul Subhan Qureshi, a 36-year-old computer engineer suspected of being behind multiple bombings in Delhi, Jaipur, Bangalore and Ahmedabad earlier this year.
Mr Neill said Deccan Muhajideen would be a militant offshoot of Simi . . .
He reckons up to 100 terrorists would have been involved in the planning and execution of the attack and said it was surprising they had managed to keep it a secret.--Emily Pykett, "Was computer expert aged 36 the mastermind?," scotsman.com, November 28, 2008]
[The role that Nariman House is coming to play in this entire attack drama, is puzzling. Last night, residents ordered close to 100 kilograms of meat and other food, enough to feed an army or a bunch of people for twenty days. Shortly thereafter, the ten odd militants moved in, obviously, indicating that the food and meat was ordered, keeping their visit in mind, another cop added.--"Mumbai attack: Was Nariman House the terror hub?," mid-day.com, November 28, 2008]
[Janes information group, the world's foremost source on intelligence information, reported in July 2001 that "The Indian spy agency RAW and the Israeli spy agency Mossad have created four new agencies to infiltrate Pakistan to target important religious and military personalities, journalists, judges, lawyers and bureaucrats. In addition, bombs would be exploded in trains, railway stations, bridges, bus stations, cinemas, hotels and mosques of rival Islamic sects to incite sectarianism."--"Mossad And India Spy Agency Team Up, Target Pakistan," sos-at.blogspot.com, November 28, 2008]
[Ajmal has revealed the name of his fellow jihadis all Pakistani citizens as Abu Ali, Fahad, Omar, Shoaib, Umer, Abu Akasha, Ismail, Abdul Rahman (Bara) and Abdul Rahman (Chhota). . . .
According to him, the group set off on November 21 from an isolated creek near Karachi without the deadly cargo of arms and ammunition they were to use against the innocents in Mumbai. The group received arms and ammunition on board a large Pakistani vessel which picked them up the following day. The vessel, whose ownership is now the subject of an international probe, had four Pakistanis apart from the crew.--"Arrested terrorist says gang hoped to get away," Times of India, November 29, 2008]
"Kasab killed Karkare, Salaskar and Kamte: Mumbai police," Times of India, November 29, 2008
[The family of slain Maharashtra ATS chief Hemant Karkare has declined Gujarat Chief Minister Narendra Modi's offer of monetary help, sources said on Saturday.--"Karkare's wife declines 'Modi's compensation' offer," Indian Express, November 29, 2008]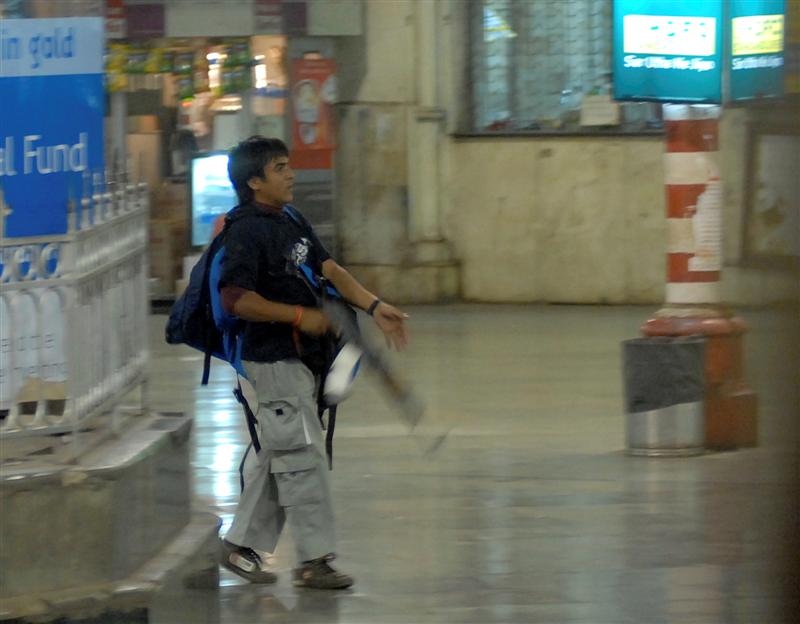 [The Mumbai terror attacks were a gigantic exercise, a fight between those forces within the Indian establishment who want to take India towards the dangerous and suicidal US-Israel nexus and those who want India to stay Independent and have good relations with Pakistan, China and Iran.--Amaresh Misra, "Attack on Mumbai: Modi, Mossad, and Sangh Parivar," email, November 29, 2008]
[With a traumatized nation and a paralyzed government, a core group of secular ideologues and Hindu nationalists are executing a 'soft coup' in New Delhi to bring to power hawks who want to pursue America's agenda of grooming India as a regional policeman, sort out Pakistan and confront China.--Ahmed Quraishi, "Signs Of An Attempted Coup In New Delhi," ahmedquraishi.com, November 29, 2008]
Damien McElroy and Rahul Bedi, "Mumbai attacks: 300 feared dead as full horror of the terrorist attacks emerges," Telegraph, November 30, 2008
William Dalrymple, "Mumbai atrocities highlight need for solution in Kashmir," Guardian, November 30, 2008
[The only terrorist captured by Indian authorities following the Mumbai attacks told interrogators during questioning that he and his men were sent specifically to kill Israelis to avenge "atrocities" against the Palestinians, the Times of India reported Sunday.--"Terror in Mumbai," Haaretz, November 30, 2008]
Editor's Note: This Sunday morning, a British expert on CNN stated that it was not likely that 10 men, could carry out attacks at 9 locations, within a period of 30 minutes.--November 30, 2008
Enver Masud"Mumbai Terror Attacks: 10 Reasons Why We're Not Ready to Draw Conclusions," The Wisdom Fund, November 30, 2008
[A sane new line suddenly began doing the rounds from people like LK Advani, who have joyously been shouting about 'Muslim terror' for years - "Terror has no religion; why link an entire community or faith to the actions of a few?"--"Religion's Double Role," Tehelka Magazine, December 6, 2008]
"Hemant Karkare," Tehelka Magazine, December 6, 2008
[Pakistan was holding in custody the ringleader and five other suspects in the conspiracy behind a militant attack that killed 179 people in Mumbai, the top Pakistani interior ministry official said on Thursday.--Kamran Haider, "Pakistan unveils breakthrough, arrests in Mumbai probe," Reuters, February 12, 2009]
[It's not too much of a secret that for more than a decade (and perhaps much longer) Israel's Mossad has been advising, some say directing, India's intelligence agencies. The cover story is co-operation in the "war against global terrorism". But it's not unreasonable to speculate that agents of Zionism and its neo-con associates are complicit in stoking Hindu-Muslim tensions.--Alan Hart, "India at War With Itself: A Global Nuclear Tinderbox Fueled by Israel," veteranstoday.com, July 14, 2010]
[WikiLeaks released a cable in which US Ambassador Timothy Roemer claimed that Rahul Gandhi had told him that ultra-Hindu terror was probably a greater threat to national security than Islamist terror. In all the furious exchanges that have followed, a crucial issue was overlooked. With the capture of Ajmal Kasab, it is undoubtedly an absurd stretch of imagination to believe 26/11 was engineered by ultra-Hindu groups, but the truth is the 'saffron terror' story is indeed far from being a closed book.--"Hindutva Terror Tapes: The Unturned Stone," Tehelka Magazine, January 1, 2011]
[VIDEO: What is made clear is that it isn't just Iran being scheduled for destruction but India and Pakistan as well. Veterans Today will be following up today with a detailed study of the Mumbai attacks, blamed on Pakistan but clearly an act of war against, not only India but Pakistan as well, not just by Israel, as so many are now aware but the CIA and MI-6 of Britain as well.--Gordon Duff, "ARE WE LEARNING THAT THE CIA IS AL QAEDA? WHY DID WIKILEAKS HIDE THIS FROM US?," veteranstoday.com, January 5, 2011]
"CHABAD IN INDIA," wideawakegentile.wordpress.com, on November 8, 2014