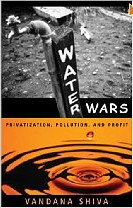 While draught and desertification are intensifying around the world, corporations are aggressively converting free-flowing water into bottled profits. The water wars of the twenty-first century may match-or even surpass-the oil wars of the twentieth. . . .
Using the international water trade and industrial activities such as damming, mining, and aquafarming as her lens, Shiva exposes the destruction of the earth and the disenfranchisement of the world's poor as they are stripped of rights to a precious common good.--Vandana Shiva, "Water Wars: Privatization, Pollution, and Profit," South End Press (February 2002)
Leah C. Wells, "Water Woes: In Iraq, Water and Oil Do Mix," CounterPunch, May 16, 2003
Lutz Kleveman, "The New Great Game," Guardian, October 29, 2003
Daniel Howden and Philip Thornton, "The Pipeline That Will Change the World," Independent, May 25, 2005
Michel Chossudovsky, "The War on Lebanon and the Battle for Oil and Water," Centre for Research on Globalization, July 26, 2006
Michel Chossudovsky, "War and Natural Gas: The Israeli Invasion and Gaza's Offshore Gas Fields," globalresearch.ca, January 8, 2009
Javier Blas and William Wallis, "U.S. Investor Buys Sudanese Warlord's Land," Financial Times, January 9, 2009
Pepe Escobar, "Liquid War: Welcome to Pipelineistan," Asia Times, March 25, 2009
Pepe Escobar, "Pipelineistan goes Af-Pak," Asia Times, May 14, 2009
Rannie Amiri, "Energy Hegemony - Israel Eyes Lebanon's Offshore Gas Reserves," counterpunch.org, July 2, 2010
Peter Mass, "The Ministry of Oil Defense: It's not polite to say so, but if Americans understood just how many trillions their military was really spending on protecting oil, they wouldn't stand for it," foreignpolicy.com, August 5, 2010
[ . . . it is Iran's success in positioning itself as a symbol of popular struggle and social justice in the developing world through a discourse reminiscent of the Non-Aligned Movement (NAM) - of which Iran is a member - that has resonated so well across Africa.--Chris Zambelis, "Iran deals itself into African game," Asia Times, January 13, 2011]
Robert M Cutler, "Tajikistan gas find a game changer," Asia Times, January 14, 2011
[Two internal conflicts are already raging in Yemen and the capital has been rocked by riots this month. . . .
Other Arab countries are not faring much better. Jordan, which expects water demand to double in the next 20 years, faces massive shortages because of population growth and a longstanding water dispute with Israel. Its per capita water supply will fall from the current 200m3 per person to 91m3 within 30 years, says the World Bank. Palestine and Israel fiercely dispute fragile water resources.
Algeria and Tunisia, along with the seven emirates in the UAE, Morocco, Iraq and Iran are all in "water deficit" - using far more than they receive in rain or snowfall. Only Turkey has a major surplus, but it is unwilling to share. Abu Dhabi, the world's most profligate water user, says it will run out of its ancient fossil water reserves in 40 years; Libya has spent $20bn pumping unreplenishable water from deep wells in the desert but has no idea how long the resource will last; Saudi Arabian water demand has increased by 500% in 25 years and is expected to double again in 20 years - as power demand surges as much as 10% a year.--John Vidal, "What Does the Arab World Do When its Water Runs Out?," Observer, February 21, 2011]
[The new energy axis runs from Alberta, Canada, down through North Dakota and South Texas, past a major new discovery off the coast of French Guyana to huge offshore oil deposits found near Brazil.--Daniel Yergin, "Oil's new world order," washingtonpost.com, October 28, 2011]
[Western nations stand to make up to a US$1 trillion from privatizing, purifying and distributing water in a region where water often sells for far more than oil.--Garikai Chengdu, "Water wars in the Middle East - $1 trillion is at stake," theecologist.org, June 4, 2014]
Suzanne McGee, "Companies proclaim water the next oil in a rush to turn resources into profit," theguardian.com, July 27, 2014
Nafeez Ahmed, "US Army Report Calls For 'Military Support' of Israeli Energy Grab," middleeasteye.net, January 1, 2015
Rakteem Katakey, "U.S. Ousts Russia as Top World Oil, Gas Producer in BP Data," bloomberg.com, June 10, 2015
Ambrose Evans-Pritchard, "Saudi Arabia may go broke before the US oil industry buckles," telegraph.co.uk, August 5, 2015
Eugene Chow, "China Is Weaponizing Water," nationalinterest.org, August 26, 2017
[By 2025, according to the UN, some 1.8 billion people will be living in countries or regions with absolute water shortages, and two-thirds of the world's population could be under "water stress" conditions.--Conn Hallinan, "The World Needs a Water Treaty," counterpunch.org, July 16, 2019]
David Hutt, "Water war risk rising on the Mekong," asiatimes.com, October 16, 2019
Explained: World's Water Crisis, Netflix, April 17, 2020
War For Water: What Happens When Asia's Rivers Dry Up? CNA Insider, September 19, 2020
Bertil Lintner, "China risks a Himalayan water war with India," asiatimes.com, January 23, 2021