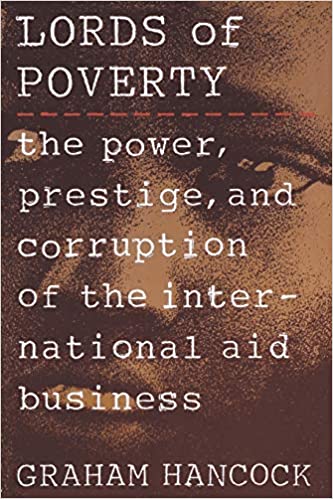 Graham Hancock, "Lords of Poverty: The Power, Prestige, and Corruption of the International Aid Business," Atlantic Monthly Press; Reprint edition (January 10, 1994), p.25
"Black Hawk Down: Somalia in 1992-93," International Action Center, December 12, 2001
"Analysis: Somalia's powerbrokers," BBC News, January 8, 2002
Marc Lacey, "Alliance of Somali Warlords Battles Islamists in Capital," New York Times, May 13, 2006
[A top U.S. official handling Somalia has been transferred from his job after criticising payments to warlords that are said to be fuelling some of Mogadishu's worst-ever fighting--C. Bryson Hull, "U.S. moves diplomat critical of Somali warlord aid," Reuters, May 30, 2006]
[Finally, after 16 years, the Somali people have decided to liberate themselves with the leadership of the Islamic court. . . .
We would also like to address some of the misinformation and accusations fabricated by the warlords and wish to provide the international communities with accurate information that will assist them to support the desires and the will of our people who wish to be free form violence and anarchy,--Sheikh Sherif Ahmed, "Islamic Courts in Mogadishu Break Silence," Islamic Courts Union, June 2006]
David Leigh and David Pallister, "The New Scramble For Africa," BBC News, June 1, 2006
[Hundreds have been killed and wounded in the worst fighting in the country in 15 years as American-backed warlords engage Islamist militias in fierce house-to-house fighting in the capital. . . .
The US has set up the 2,000-strong Combined Joint Task Force-Horn of Africa (CJTF-HOA) in neighbouring Djibouti to counter the Islamist threat. Human rights groups say armed gangs paid by Americans have abducted people. Some have turned up at Guantanamo Bay and the US base at Bagram in Afghanistan.--Kim Sengupta, "Return to Somalia: The War on Terror - A New Front," Independent, June 2, 2006]
[The Union of Islamic Courts does not want to impose a Taleban-style Islamic state in Somalia, says their leader.--"Somali Islamic state 'ruled out'," BBC News, June 6, 2006]
[Indeed, some of the experts point to the American effort to finance the warlords as one of the factors that led to the resurgence of Islamic militias in the country.--Mark Mazzetti, "Efforts by C.I.A. Fail in Somalia, Officials Charge," New York Times, June 8, 2006]
Karen DeYoung, "U.S. to Hold International Meeting on Somalia," Washington Post, June 10, 2006
[Since Islamic militias took control of this city last week, U.S. and other Western officials have worried that Mogadishu's new leaders will impose a severe, Taliban-style government and harbor terrorists. But after 15 years of deadly chaos, residents interviewed here expressed nothing short of jubilation that somebody has made their city safe and that, for now, the daily crackle of gunfire is finally gone.--Craig Timberg, "Guns Finally Silent In Somalia's Capital: Islamic Militias Impose a Welcome Calm," Washington Post, June 17, 2006]
Marc Lacey, "Somalia claims U.S. urged Ethiopian incursion," New York Times, June 18, 2006
"Somali Government, Militia Sign Cease-Fire," Associated Press, June 23, 2006
Marc Lacey, "New Militant Leader Emerges in Mogadishu," New York Times, June 26, 2006
Steve Bloomfield, "Last US-backed warlord surrenders to Somali Islamists," Independent, July 12, 2006
[ . . . the decision to ask Ethopia for help puts the future of the transitional US-backed government in question.--Tom Regan, "Fears of war in Somalia grow," Christian Science Monitor, July 21, 2006]
[Ethiopia, the Somali government's chief ally and protector against the militarily superior Islamists, has long been Washington's top counter-terrorism ally in the Horn of Africa.
That, many believe,led Washington to covertly support the Mogadishu warlords that Ethiopia had used as proxies for years.--C Bryson Hull, "US struggles for new Somalia policy," Mail & Guardian, September 4, 2006]
[Dramatic evidence that America is involved in illegal mercenary operations in east Africa has emerged in a string of confidential emails seen by The Observer. The leaked communications between US private military companies suggest the CIA had knowledge of the plans to run covert military operations inside Somalia - against UN rulings - and they hint at involvement of British security firms.--Antony Barnett and Patrick Smith, "US accused of covert operations in Somalia," Observer, September 10, 2006]
[The Islamist group that has seized much of southern Somalia has said Ethiopia has declared war by sending its troops to help the interim government.--"Somali Islamists in war warning," Observer, September 26, 2006]
Daniel Howden, "Somali Islamists accuse Ethiopia of invasion," Independent, October 10, 2006
Steve Bloomfield and Anne Penketh, "Somalia says al-Qa'ida is provoking all-out war," Independent, November 3, 2006
[The real reason is likely to be that the Ogaden region, which borders Somalia, sits on a not yet exploited gas field.--Daniel Whitaker, "Race for riches is Africa's torment," Observer, November 12, 2006]
[Ethiopia officially plunged into war with Somalia's Islamist forces on Sunday, bombing targets inside Somalia and pushing ground troops deep into Somali territory in a major escalation that could turn Somalia's internal crisis into a violent religious conflict that engulfs the entire Horn of Africa.
The coordinated assault was the first open admission by Ethiopia's Christian-led government of its military operations inside Somalia, where - with tacit American support - it has been helping a weak interim government threatened by forces loyal to the Islamic clerics who control the longtime capital, Mogadishu, and much of the country.--"Ethiopia Hits Somali Targets, Declaring War," New York Times, December 25, 2006]
[Support for the Islamists increased after the U.S. backing of the warlords became public.--Caren Bohan, "U.S. signals support for Ethiopia in Somalia," Reuters, December 27, 2006]
[Ethiopian troops, with Washington's tacit approval, have routed the Islamists who seized power in Somalia last June. . . .
Far from restoring stability to Somalia, this week's developments could well plunge that country back into the protracted anarchy from which it emerged only recently. What struck me most forcefully during a week in Mogadishu this month was the gulf between Washington's view of the so-called Union of Islamic Courts and that of the Somali people.
To Washington the Union is - or was - a new Taleban: al-Qaeda sympathisers who were turning Somalia into a haven for terrorists including those responsible for the US embassy bombings in Kenya and Tanzania in 1998.
That may or may not be true, but most Somalis I met welcomed the Union because it had banished the warlords who had reduced their country to mayhem during 15 years of civil war. . . .
Preoccupied with the spectre of Islamic terrorism, Washington is thus party to an attempt by a repressive regime in Ethiopia to replace a popular de facto government in Somalia with a widely reviled official one.--Martin Fletcher, "This 'victory' could mean a return to anarchy," Times, December 29, 2006]
Monte Morin, "U.S. trainers prepare Ethiopians to fight," Stars and Stripes, December 30, 2006
"Defeat of the Islamic Courts: pop is back on the radio and clan war is back on the streets," Sunday Herald, December 31, 2006
Eric Margolis, "Blundering Into Somalia Yet Again," lewrockwell.com, January 1, 2007
[Resolution 1725 also urged that all member states, "in particular those in the region," to refrain from interference in Somalia, but hardly the ink of the resolution dried than Washington was violating it by providing training, intelligence and consultation to at least 8,000 Ethiopian troops who rushed into Baidoa and its vicinity before the major Ethiopian invasion, a fact that was repeatedly denied by both Washington and Addis Ababa but confirmed by independent sources.--Nicola Nasser, "Somalia: New Hotbed of Anti-Americanism," counterpunch.org, January 3, 2007]
["Ordinary Americans are fed up with foreign interventions. So what's happened in Somalia is now going to be a preferred strategy -- using allies in the region as their catapult," said Weinstein, a politics professor at Indiana's Purdue University.--Andrew Cawthorne, "Ethiopia gives U.S. a New Year's gift in Somalia," Reuters, January 3, 2007]
"US seeks return to Mogadishu," Financial Times, January 3, 2007
[Intelligence analysts disagree over the extent to which al-Qaeda has influenced leaders in the Islamic movement, if at all, and whether the three terrorism suspects were in hiding in Somalia or being sheltered.--"Disorder Returns to Somali Streets," Washington Post, January 6, 2007]
["So many dead people were lying in the area, we do not know who is who, but the raid was a success."--"US air raids target suspected Al-Qaeda hideouts in Somalia," AFP, January 9, 2007]
Alexis Debat, "U.S. Special Forces Engaged in Operations on the Ground in Somalia," abcnews.com, January 9, 2007
[The intelligence was provided by unsavory, corrupt Ethiopian dictator Meles Zenawi - who came up with the clever plot of concocting a fictitious jihad conducted by "neo-Taliban" in Somalia and selling it handsomely to the US Central Intelligence Agency (CIA) and the Pentagon. He's now posing as a prime US ally in the "war on terror", just as Uzbekistan's Islam Karimov did in the autumn of 2001.
Zenawi's US-trained Ethiopian troops, the ones who invaded Somalia, are infested with CIA operatives and Special Forces - all of them flown in from the strategic US-controlled (since September 11, 2003) Camp Le Monier in Djibouti.-- Pepe Escobar, "Taking the Bull by the Horn," Asia Times, January 12, 2007]
[The number of the dead we have confirmed until now is 150 dead. . . . that number is expected to rise.--Kim Sengupta, "US strikes on Somalia 'missed target'," Independent, January 12, 2007]
[The operation, which opened a new front in Washington's anti-terror campaign, seems to have backfired spectacularly in the five days since it was launched. In addition to the scores of Somali civilians killed, the simmering civil war in the failed state has been rekindled.--Anne Penketh and Steve Bloomfield, "US strikes on al-Qa'ida chiefs kill nomads," Independent, January 13, 2007]
[It was a clear violation of the U.N. charter.--John B. Judis, "Rogue State America," New Republic Online, January 17, 2007]
[For the six months that the Islamic Courts were in control of the city there was a level of peace and security here that had been absent for the preceding 15 years. . . . now the insurgency against Ethiopia's occupation has begun.--Steve Bloomfield, "Conflict in the Horn of Africa: The streets of Mogadishu," Independent, January 19, 2007]
[Vice President Dick Cheney and his neo-con cabal are intent on expanding the British-designed global crusade against Islam by instigating a war in the Horn of Africa. . . . Cheney and company have set off the crisis in such a way that it will drag in neighboring nations, thus turning the entire region into a quagmire of permanent, and spreading, war. It will be unstoppable until the British globalization policy of destroying populations and sovereign nations is eliminated. This has been the underlying axiom of U.S. policy since Henry Kissinger's genocidal NSSM 200, promulgated during the Nixon Administration.--Douglas DeGroot, "British Arc of Crisis Extended to Africa," Executive Intelligence Review, January 19, 2007]
Jeffrey Gentleman, "The New Somalia: A Grimly Familiar Rerun," New York Times, February 21, 2007
Michael R. Gordon and Mark Mazzetti, "U.S. Used Base in Ethiopia to Hunt Al Qaeda in Africa," New York Times, February 23, 2007
[When the colonial powers sliced up the Horn of Africa in the 19th century, the British got Somaliland and the Italians got Somalia. While the British relied mostly on clan chiefs to govern, the Italians created an entire Italian-speaking administration and imported thousands of people from Italy to farm bananas, build cathedrals and teach the people how to pour espresso.
One result was that Mogadishu, along the southern coast, became a major commercial hub and one of the most beautiful cities in Africa, but its traditional systems of authority were weakened.--Jeffrey Gentleman, "The Other Somalia: An Island of Stability in a Sea of Armed Chaos," New York Times, March 7, 2007]
"' Outsourced Guantanamo' - FBI & CIA Interrogating Detainees in Secret Ethiopian Jails, U.S. Citizen Among Those Held," democracynow.org, April 6, 2007
Jeffrey Gentleman, "Somali Battles Bring Charges of War Crimes," New York Times, April 6, 2007
"Mogadishu clashes 'killed 1,000'," BBC News, April 10, 2007
Salad Duhul and Elizabeth A. Kennedy, "Somalia facing humanitarian crisis as hundreds of thousands flee capital," Independent, April 24, 2007