Rory McCarthy, "Palestinians Lose Faith in Two-State Solution," Guardian, September 4, 2008
Chris McGreal and Rory McCarthy, "Obama: Halt to New Israeli Settlements is in America's Security Interests," Guardian, May 29, 2009
George Galloway, "Aid Convoy Arrives in Gaza, Situation 'Desperate'," Democracy Now!, January 7, 2010
[So the propaganda war is on. Forget Israel's invasion of Lebanon in 1982 and the 15,000 Lebanese and Palestinian dead. Forget the Sabra and Shatila massacre that same year by Israel's militia allies as their troops watched. Erase the Qana massacre of 1996 - 106 Lebanese killed by Israeli shellfire, more than half of them children - and delete the 1,500 in the 2006 Lebanon war. And forget, of course, the more than 1,300 Palestinians slaughtered by Israel in Gaza last year (and the 13 Israelis killed by Hamas at that time) after Hamas rockets fell on Sderot--Robert Fisk, "Israel feels under siege. Like a victim. An underdog ," Independent, February 2, 2010]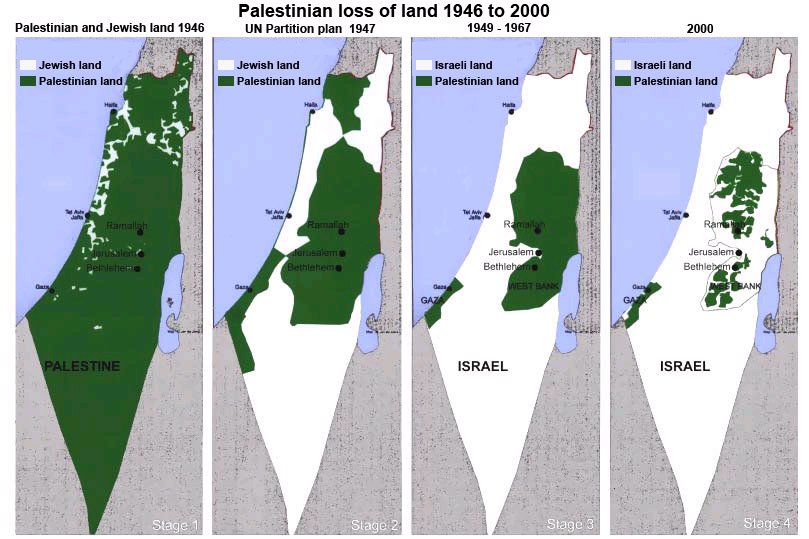 The first map thus shows what the League of Nations imagined would become the state of Palestine. . . .
The second map shows the United Nations partition plan of 1947, which awarded Jews (who only then owned about 6% of Palestinian land) a substantial state alongside a much reduced Palestine. . . .
The third map shows the status quo after the Israeli-Palestinian civil war of 1947-1948. . . .
The final map shows the situation today, which springs from the Israeli occupation of Gaza and the West Bank in 1967 and then the decision of the Israelis to colonize the West Bank intensively (a process that is illegal in the law of war concerning occupied populations).--Juan Cole, "The Map: The Story of Palestinian Nationhood Thwarted After the League of Nations Recognized It," juancole.com, March 16, 2010]
Juan Cole, "Top Ten Reasons East Jerusalem does not belong to Jewish-Israelis," juancole.com, March 23, 2010
[Let's talk with an Israeli government that boasts of at least six ministers in its "forum of seven" of top decision-makers who say they do not believe in an agreement with you.--Gideon Levy, "Let's talk," Haaretz, April 1, 2010]
Noam Chomsky, "Peace that could happen (but won't)," Asia Times, April 28, 2010
[In sum, there are great dangers ahead for the Palestinians, who will continue to suffer terribly at the hands of the Israelis for some years to come. But it does look like the Palestinians will eventually get their own state, mainly because Israel seems bent on self-destruction.--John J. Mearsheimer, "The Future of Palestine: Righteous Jews vs. the New Afrikaners," Palestine Center, April 30, 2010]
Anisa Abd el Fattah, "Death of a two state solution could give birth to a free Palestine," National Association of Muslim American Women, April 30, 2010
Nahida, "A Letter To The American People From The Heart Of A Muslim Woman," countercurrents.org, May 5, 2010
VIDEO: Max Blumenthal, "Goliath: Life and Loathing in Greater Israel,," c-span.org, December 2, 2013
Allan C. Brownfeld, "Examining 'Ten Myths about Israel', by Ilan Pappe," mondoweiss.net, January 24, 2018